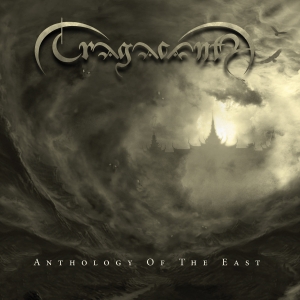 Tragacanth are a young band from Holland, consisting of members involved with e.g. Thrash-act Chained Messiah and melodic Death Metal band Shade Of Hatred. But the band also includes Adrian Neagoe (here acting under the nickname OqPe Bune or OQ), who several amongst us do know from his involvement with (the likes of) Negura Bunget. The quartet did write and record the Anthology Of The East album in 2015, and at the very end of that year there was an independent digital release. Then Loud Rage Music showed up (a young but strongly upcoming Metal-label), and that is not a coincidence, I guess, for that label hails from Romania too, just like Adrian (though I do not think he's actively involved with that label).
So, it means that we now can enjoy this stuff on compact disc, with lay-out (sober but quite amusing) and lyrics. It's an eight-tracker that lasts for forty-four minutes, and coming with a surprisingly clean sound – but not 'clean' like in 'clinical' or 'forced', but appropriately fitting to the melodic songs on the album.
Anthology Of The East opens with the intro Rebirth (quite funny, because the last thing I listened to before starting this review was the same-titled EP by Martial Industrial act Legionarii – but that's of no value right now…). It's a very varied instrumental piece that shows quite a lot of what this album offers. An impression of how much on such a short scale: acoustic, symphonic, progressive, doomish, melodic-metalized, quite diverse but little confusing. But the story really starts with The First Noble Truth, which initially reveals an operatic and bombastic form of Blackened Death Metal. And indeed, as soon as the stuff explodes, the bands shows its core: firm and intense Metal, overpowering heavy, orchestral, guitar-oriented, with both grunts and screams, lots of variation (see further), symphonic keyboard passages, futuristic riffing, floating leads, an overload on tempo-changes, and so on, and so on, and so on. Indeed, each track has so much to offer, for there are no fifteen seconds that brings the same stuff. And still, Tragacanth sort of succeed to have the material resulted in a coherent and organic story. I just mentioned 'see further' when referring to the variation, but I already summed up quite a lot of things. It's the tempo, the structures, the vocals, the interplay in between acoustic, semi-acoustic and electronic passages, and so much more. Once again I do mention the cohesion, for the result is not just some unreachable mishmash of good ideas. But I cannot but mention the injection of 'oriental' elements, of course – think the Nile, Al Namrood and Melechesh-oriented stuff. Not only the melodies refer to that Middle-Eastern influence, but the instruments used are quite the same, cf. the percussions, for example, at the intro of The Gates Of Naraka.
The ideas are great, the intention is full of persuasion, and the members surely show a professional attitude and inherent conviction. However, sometimes I am waiting, impatiently, for something that does not come. That's a minor element to my (subjective) opinion. So are some of the predictable structures and a couple of somewhat silly, neo-catchy fragments, like the better part of Kutayuddha – is it the aim to go the progressive way, or the opposite – for I have no clue… But don't worry. I am not totally disappointed, for Anthology Of The East actually has a lot to offer, and the result (song writing, performance and sound) is quite cool. But with an anthem like the last composition, Edimmu, Tragacanth do show their skills on several levels. I recommend this song to get a sonic picture of what this band stands for – you won't be disappointed…
[FYI: Loud Rage Music are not that known (not yet), but as mentioned they are sort of 'upcoming' and you'll see some more reviews for their releases in the future (like Ashaena, Akral Necrosis, Gothic and False Reality, amongst others) – and there are a couple of ones undersigned did write and publish in December 2015 too, in case you're interested: Whispering Woods and Grieving Mirth]