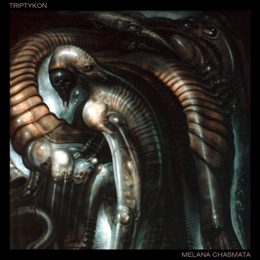 I do not think Triptykon need any introduction anymore. They actually started six years ago as a side-project of Celtic Frost, but soon it all turned more serious. Tom G. 'Warrior' Fischer left Celtic Frost (and Celtic Frost disbanded soon after), and lots of material he wrote after the Monotheist-sessions (which I still think was a splendid album) seemed to be a logical basement for his new group. A first result was Eparistera Daimones, released in 2010 via Prowling Death Records (owned by Tom and the band's manager), and their current home-label, Century Media. The success was huge, and Triptykon visited the whole Northern hemisphere to perform live on stage. In 2012 the band started writing material for the successor, and this stuff was finally recorded at the famous Woodshed Studio, once again, owned by Victor Santura (you might know him from bands like Dark Fortress, Noneuclid or The Shroud), who's part of Triptykon as from the very beginning. Tom (v, g) and Victor (g, v) are joined, also 'once again', by drummer Norman Lonhard (ps: known from e.g. Fear My Thoughts and Pigeon Toe) and Vanja Slajh (b, v), previously in Freitod. Result: Melana Chasmata, a nine-tracker with a total running time of almost seventy minutes.
Melana Chasmata goes strongly on in the vein of Eparistera Daimones and the EP Shatter, with still that recognizable (and evident) Celtic Frost-approach. There is a big deal of variation, yet always maintaining the characteristics of Mister Warrior. And still Triptykon do not just sound like a copy of Hellhammer or Celtic Frost. It is an own experience, because it does create a completely elaborated aural spectrum with the Celtic Frost-approach as basis. And just like Eparistera Daimones, Melana Chasmata is a mind-blowing trip through dimensions still to explore. A whole scala of emotions, ideas, interpretations and visions come to mind, but because of the coherent entirety, it does make sense. But beware: you cannot fully grab the influence it might have on your existence. It takes quite some time to have a first glimpse on the concept, and each time you'll explore new elements within the multi-layered sonic creations. Damn, as you see, I have no idea how to define this material…
Oh yes, finally this: the artwork has been done once again by H.R. Giger (he did the cover of the debut album), who did Celtic Frost's To Mega Therion too, by the way. This Swiss artist absolutely is one of my favourite painters. Everybody knows him from his work for movies like Alien and Dune. But the first time I was completely blown away by his works was for the Baphomet-project with notorious Swiss occultist Akron and Swiss Electro-act Epilepsy, which included grandiose Tarot-cards created by the hand of Giger. Fabulous stuff it was (both the concept, the paintings and the music)! He also created covers for bands like Danzig, Carcass and Atrocity (and apparently also the likes of Emerson, Lake & Palmer, Debby Harry and Steve Stevens). Certainly worth checking his Art, I do surely recommend this!