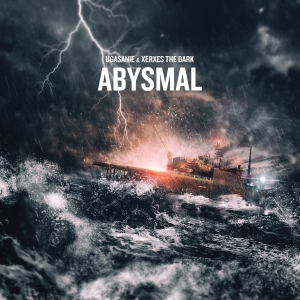 Cryo Chamber have never been afraid to release collaboration – I am not talking about split releases, yet about recordings based on a co-operation of different artists. Label owner Simon, for example, has several collabs with his (sublime) project Atrium Carceri, but the same goes for quite a lot projects that are closely related to this label (Alphaxone, Cities Last Broadcast, ProtoU, Council Of Nine, God Body Disconnect and so on).
The very same goes for Abysmal, which is the working title for a mutual effort by Russian artist Ugasanie and Iranian Xerxes The Dark. Both of them, for what it's worth, are high on my list of preferred Ambient artists – but that is a subjective element. The first one is the outlet of Pavel Malyshkin, quite productive for sure, and the second one is created by Morego Dimmer. They both took care of the song writing, performance and production, and as usual, the mastering was done by Simon Heath. Anyway, both artists joined forces, which resulted in six quite lengthy compositions (lasting in between six and thirteen minutes, clocking an hour). The concept deals with fear and hopelessness, based on a travel deep into the ocean. When storms take over control, and any contact with the 'real' world is lost, you feel isolated, scared, lost… It comes out quite well through the astonishing artwork (a rudderless ship surrounded by devastating waves during a moonless, stormy night), which was created by Keosz frontman Erik Osvald. When you lose contact with the world, being deep under the sea level, claustrophobia and anguish take over any sense of reason.
It is incredible to feel the desperation and helplessness; you deeply feel submissive to the insidious waves that attack you while being on a ship out of control. A huge ship that looks like a grain of sand in the desert, amidst the gigantesque sea, teared apart by whirlwind, like a tsunami overawing the lost vessel, or a cramped submersible (a bathyscaphe it is), deep under the water level, without communication, power or light. All compositions are based on monumental layers of thick, darkened, oppressive bass drones, slowly evolving, permanently arousing and clashing. All this gets injected with shrieking metallic noises, eerie field recordings (enormously applicable to the individual compositions!) and horrific ambience. In a conjuring way, these soundscapes leave you alone with your hallucinations, fears and uncertainty, and in some masochistic, self-destructive way it is a pleasure to await the next level of eternity, after the earthly life and watery death. The voice at the end of the album knows the end is near. Which creature will guide him to the mortal truth?...