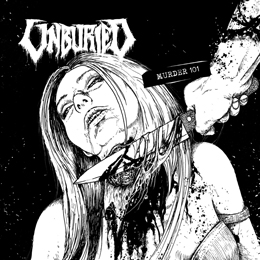 Release Date:
Friday, December 14, 2012
First discussion: full length or mini? Nearly thirty minutes, not fully.
Second discussion, and much more important: what to think about this material? The band consists of highly experienced musicians (Mark Riddick, Brian Forman and Matt Pike), so the expectations are high. Is it satisfying, does it fulfil one's morbid nightmares?
Nightmarish it is, this second Unburied-album. Nasty, raw, unpolished, uncompromising no-nonsense Gore / Death stuff with a grinding touch (not for the speed, yet for the ugly atmosphere). But dated, even uninspired might be other adjectives. I think it balances in between both. Nicely paying tribute to the origins with primal essence, versus jamming in order to give expression to aggression and frustration?...
There are hints of (early) Cannibal Corpse, Mortician, Repulsion, NunSlaughter (there will be a split-EP in a couple of months from both bands through Doomentia), Suffocation and Exhumed, so…