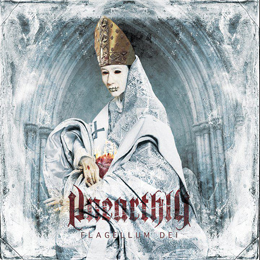 Unearthly are a Rio de Janeiro-based band, formed at the end of last century. They are extremely popular in South America, having toured with internationally high-acclaimed bands like Obituary, Behemoth, Suffocation, Marduk, Hate Eternal and probably the most popular band from Brazil, Sepultura. The band visited Europe too, and especially in the eastern countries they became a welcome live-act. Throughout the years Unearthly released several recordings, both studio-works and live-registrations, amongst which the one this review deals with.
Flagellum Dei was originally released in 2011 via Shinigami Records, a small Brazilian label specialised in Rock and Metal in general. Besides distribution in their home country, as well as in Ukraine and Russia (Unearthly seem to be well-known out there; one of their live albums, by the way, was registered in Voronezh, Russia), this album did not get any international attention. Until now…
The album was recorded in Poland, at the famous Hertz Studios with the Wieslawski-brothers Wojtek and Slawek (think: Behemoth, Sideblast, Azarath, Vader, Suhrim and tens of others). It lasts for forty five minutes and slightly evolved from the past.
The earliest records were focused on a fierce and furious, almost Scandinavian-sounding form of Black Metal, yet throughout the years Unearthly introduced elements from Death Metal as well. With Flagellum Dei this progression comes to perfection for injecting a Dark Funeral / Marduk / Belphegor-alike Black entity with Behemoth / Morbid Angel / Krisiun / Hate Eternal-influenced Death precision. They do it with persuasion and craftsmanship, and with this album they created a killer recording with nothing but glorious professionalism in mind. It is not 'just another' band you hear, for they combine traditional elements with own-faced specifications. The addition of technically high-crafted riffs, groovy decelerations, tremolo picks, acoustics (listen for example to the outro of Baptized In Blood), even didgeridoo (the ethnic-ritual song Limbus), but especially the typifying Hertz-influence, or at least a Polish one (the sound of Decapitated, Vader, Behemoth, Yattering, Hate etc. has clearly penetrated Unearthly's unearthly sound), are elements that might have a distinctive character for this band being from Brazil.
It is interesting to notice that this album comes with a huge dose of variation. All right, the focus lies on a fast, sometimes hyper-speed tempo, but it does not need to be lightning fast all the time. Besides, the song structures are filled with breaks and adaptations, and the band uses aspects differing from the normal too (I gave a couple of examples in the former paragraph). If this wasn't but a collection of brutally blasting songs, it would bore after a while; because of the variation, however, Flagellum Dei turns out to be a very agreeable piece of monstrous proportions.