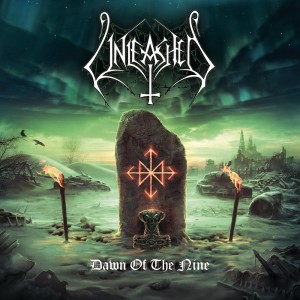 What can I say? Unleashed have always been one of the most influential bands from Sweden, and after more than two and a half decades, they are still sitting on the throne of Battle Metal. Throughout the past years, their efforts became somewhat darker in approach and execution, and evidently this path continues.
I usually focus on smaller labels and underground bands, knowing that majors do get every attention they do need ('to need' does not always equal 'to deserve', and that in contradiction to many of those smaller, independent labels!!!), yet since Dawn Of The Nine is, once again, nothing but a class-recording by a class-band…
A major approach with the past is the sound / atmosphere: being much denser, more obscure (read: black-edged!) and overwhelming (+) as well as more mechanic and over-mixed (-). The quality of the individual songs and the result in general, however, is, like usual, truly satisfying, and simply a MUST for all fans, old (hey, I am not that old, am I???) and new.
Epic and victorious, vengeful and fearless, hammering and pushing-forward; Dawn Of The Nine once again is a monument-in-spe! Nothing more to add…