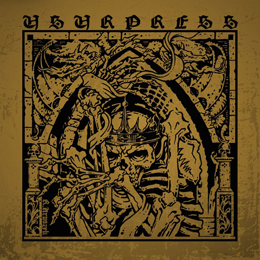 Release Date:
Monday, December 16, 2013
This untitled split-EP/MCD starts with three tracks by pretty young Swedish act Usurpress (formed in Uppsala in 2010), which includes former and current members of e.g. Embalmed and Tyrant (the one from Eskilstuna). This band released a mini and a full length in the past (respectively called In Permanent Twilight, via Plague Island, and Trenches Of The Netherworld, which was released in 2012 on their current label Selfmadegod), as well as some splits (with top-acts Bombs Of Hades and Pyramido). The songs were recorded with producer Erik Sundström and bring a grinding edition of Carnage / Entombed-alike nastiness, with an injection of Black-edged evilness, Doom-laden grimness, and D-Beat / Crust-alike Sludge-supremacy.
The second part of the split consists of eight fast and furious pieces by Bent Sea, an international project that was formed three years ago by famous Belgian musician Dirk Verbeuren, who's known from his collaboration with highly acclaimed bands like Soilwork, Aborted, Yyrkoon, Phaze I, Scarve and many more. For this split, Dirk was joined once again by Aborted's Sven de Caluwé (also in e.g. Leng Tch'e, Unleash The Fury, Anal Torture a.o.) and Shane Embury (of Napalm Death / Venomous Concept / Brujeria / Lockup / Insidious Disease / …-fame) [FYI: Devin Townsend used to do the bass parts in the past]. It's a Death-Grind hybrid with a gargantuan sound and lots of unusual injections: weird tempo-changes, dissonant hooks and disturbing breaks, and so on. This is one of those Grind-acts that differs (almost) completely from the massive overload on quasi-boring bands that try to sound like the legendary acts from the eighties, but that do not reach that level at all. No, in this band's case it is much more inventive and, at the same time, much more convincing.
Great, no, excellent split release!