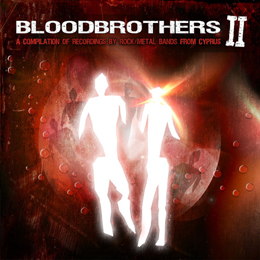 Album Title:
Bloodbrothers II – A Compilation Of Recordings By Rock/Metal Bands From Cyprus
As you probably guessed, you smart-ass, 1) Bloodbrothers II is the second Bloodbrothers-compilation and 2) Bloodbrothers II consists of tracks from Rock and Metal bands from, indeed, the island of Cyprus. Cyprus isn't the most known country when it comes to heavier outfits, but apparently there is a vivid local scene, which includes a handful of bands that have international fame too in mean time.
FYI: the first Bloodbrothers-compilation dates from 1997 and is now considered a 'cult classic' (probably slightly exaggerated), but there will be a limited edition of this second one which will feature the first compilation as bonus disc.
When it comes to the Cyprian scene, well, this one deals especially with Heavy Metal in different aspects, approaches and executions. And this second Bloodbrothers-sampler indeed mainly consists of material from Heavy Metal bands from that Mediterranean island. It has to do with Heavy Metal in general, and then I want to refer to the huge variation in between the bands. Whether it is related to Doom, Power or Thrash Metal, even NWOBHM or more proggy stuff, it's all performed with persuasion and joy.
However, as some of you might have guessed, the average quality isn't that bad at all, but seen in a certain perspective one cannot deny a feeling of gloire passée, past glory. Some of this material could have done two decades ago, some has been quasi-copied, etc. No, I don't think Cyprus will become Metal World's country Number One, but if you're into Speed / Thrash / Power / Doom / Traditional / Epic / Heavy / True Metal-oriented stuff whatsoever, you might find some pearls out there.
I don't think it would be advantageous to share my personal opinion about every single track on this compilation (because some stuff really sucks, while some other is more than acceptable). Neither would it be profitable to give a description about all of them, because it would make this review too long, and there is more information to find on the wwwebber-thing, but I will be so kind to sum up the bands presented, so if there's a bell ringing when you read a specific moniker, you will (…).: Arrayan Path, Armageddon, Winter's Verge, Solitary Sabred, Astronomikon, R.U.S.T., Lethal Saint, Serpent Teeth, Hardraw, Marianne's Wish, Under The Number, Die Witzelsuchts, Infected Syren, Zoner, Oneirism, Quadraphonic, Stormcast, and Blynd.