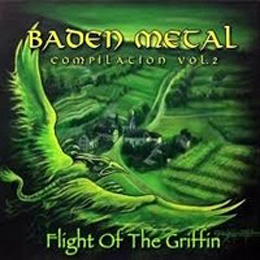 Album Title:
Baden Metal Compilation Vol. 2 - Flight Of The Griffin
This compilation supports the local scene of the Baden region. The project started with Rise Of The Griffin in 2008, and now continues with a second sampler, called Flight Of The Griffin. Two additions: 1) a griffin is a heraldic beast, symbol for the Baden region (amongst others), and 2) the compilation's subtitle is taken from the eighties Metal band Griffin.
This sampler proves the strength of this specific localisation, for there are many great acts that are presented on it. There are fifteen bands, and I do not have the intention, necessity, urge, nor energy to deepen into each single band, but expect Epic, Black, Death, Power and Thrash Metal in general. And besides the strong quality of the bands presented, another undeniably positive element is that Flight Of The Griffin sort of groups the different bands within each genre (even though the overlap is rather ignorable from time to time). There are many great Baden-located bands, of course, that aren't on this album (but some of them do not need this kind of support anymore); however, most of the bands featured on this second Baden Metal volume are not that known at all, except within their local scene, and this album might give some of them new and deserved opportunities.
The album ends with Badnerlied, an anthem done by some artists from the region, gathered as Baden Metal Allstars. It features members from e.g. Pessimist, Silent Overdrive, Subtrash, Paniczone and Evertale, and it's a fun thing, but with nothing more to add. …just a joyful national anthem translated into a metallic approach.
Hail to the Badischen Heimatmusik…