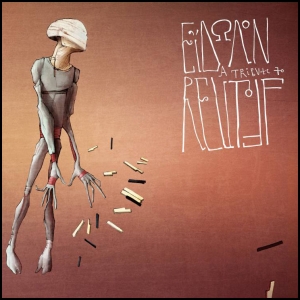 Album Title:
Eidolon. A Tribute To Reutoff
I guess Reutoff are one of the most influential Industrial / Ambient acts from Russia, known for an unconventional yet quite impressive elegance. So I do not think it's a wonder that this project deserves a tribute album, which includes some of the major acts that dwell around the Drone / Post-Industrial / Dark Ambient / Neo-Folk scenes lately. Ere wie ere toekomt! (something like 'honour to whom deserves honour'). In sixteen years of existence (at the moment of this release), Reutoff always succeeded, with each single release, to outstand the 'grey masses', to create something bigger, greater, deeper, more majestic than many colleagues acting around. So, eventually the idea to pay tribute to them became a reality, which did result in the Eidolon. A Tribute To Reutoff compilation, which includes different re-interpretations and collaborations on Reutoff's unique material. And seen the participation of the bands / projects involved, one cannot just ignore the worldwide importance…
Oh yes, before going on: Old Europa Café! Hail, ave, salve, whatsoever, this label by Frater Rudolf takes care of this release, which deserves respect; and I promise you to have more Old Europa Café-material getting reviewed in the near future, so watch out…
But let's now focus on Eidolon. A Tribute To Reutoff. This compilation lasts for seventy seven minutes, and compiles twelve compositions. It consists, as mentioned before, of re-interpreted cover-tracks and previously unreleased stuff, and even material that was just inspired by Reutoff's raison d'être…
The first piece is a re-interpretation of Capacity To Kill, which originally appeared on Deprivatio (some more covers are taken from that 2008-recording). It's done by Atrium Carceri, one of the projects by Simon Heath, who also runs the Cryo Chamber label (for which I will write some reviews too in a very near future, amongst which an Atrium Carceri-compilation). Starting the most sober and minimal way, like a distant wave of sound, Capacity To Kill evolves into a warm and, at the same time, chilly piece of integrity. Eventually, after the creepy vocal parts, the whole indeed turns towards eeriness and obscurity, with those really beautiful synth waves…
Next is a 'musical interpretation' of a very old song, Hypnerotomachia, initially from 1998's Three Souls For A Reasonable Price, and re-recorded in 2013 by Desiderii Marginis (and just for your information: you can check out a review on Hypnosis, which was uploaded on December 9th 2014). Actually, it comes closer to the earlier releases of Desiderii Marginis than their later works, for being less minimal and rather dreamlike. It's a slow keyboard-driven composition, somewhat funereal and depressed actually (I cannot but avoid thinking about early Sopor Aeternus), with fine samples (whipping and sighing???) and a dense atmosphere.
Tunnels In The Dark (also from Deprivatio) gets redone by Flint Glass, a project of Frenchman Gwenn Trémorin (who also rune Brume Records). It contains elements from Apocalyptic Folk, trippy Noise and electronic-driven Industrial. The keyboard melodies towards the end, when the soft-electronic beats take over the leading position, come with the very same elegance like several Dark Wave / Gothic Electro acts.
The fourth cover track is La Mento Ma Mento (indeed, taken from Deprivatio) by Empusae, an outfit of Nicolas Van Meirhaeghe. here too, initially the floating synth melodies come with the grandeur in the vein of the very early Gothic scene (and then I am referring to the glory days when that scene was still real, let's say the era late eighties – early nineties), but Nicolas injects these floating passages with weird soft-electronics, tribal drumming and scarifying samples.
Sal Solaris come up with Never Touch The Xyŭ!, but they impressed me before with a Reutoff cover track. On Eisengrau (Beyond The Principles), a split with, indeed, Reutoff (Cyclic Law; for the [evidently excellent] review, check out the update of June 15th 2014), both projects did a cover version of each other, and in Sal Solaris' case it was Children Of The Dead. Anyway, this Russian duo now pays tribute to Reutoff by their trippy, trancelike and hypnotic interpretation of the rare track Never Touch The Xyŭ!, a result from a collaboration with Quattro Bravo Eballieros, some sort of side-project by Reutoff. Anyway, it sounds quite different from what we're used from Sal Solaris, but then again, who cares about that…
Track six is Schlaf-Hello Sleeper, a collaboration in between Reutoff and Antlers Mulm, an outfit of Hans Johm from Germany. It's not their first collaboration, by the way. The somewhat synthetic-plastic-electronic performance comes with a certain melancholy, strengthened by the sad, new-wavy vocals.
Wermut come with Winter 1998 (Total Re-Remake), the first out of three compositions that originate from 1998's Das Absterben, though this time it's a re-remake, the remake remade indeed. For sure it's a cosmic vision on the original track, coming with soft yet little danceable electronic beats, spacy synth passages and additional voices that come with that additional post-universal effect. Space-Ambient-Electro…
Then comes another co-operation with Reutoff, being the track The Flame, created with Lina BabyDoll's Deutsch Nepal (once again not the first joint-venture of both projects). Remarkably it's a piece that exhales quite a Neo-Folk attitude, which I initially didn't see coming. In a subtle manner, there is quite an energetic performance going on by means of the electronic percussion, but both the many layers of instrumentation (read: different keyboard lines) and the clean voice of Lina stand in counterbalance to the energy, by adding a certain integrity, an inner rest.
The following cover project gets performed by Svartsinn, remixing Dies Irae (from Das Absterben), re-created in 2013. This piece slowly builds up, adding suffocative and eerie melodies by martial effects and terrifying noises and samples. It's like an excerpt for an underground horror movie.
Oцепеневшие (aka Otsepenevshiye) are a Russian duo that recorded and mixed the track Moss (taken from the third release within the ReuTRauM-series) in early Autumn 2013. Their version is like a minimal and primal trip through the darkest regions of the sub-conscious. The guitars create a minimal Doom feeling, eventually referring to the psychedelic material in the vein of earlier Sunn O))) and the likes. Besides, the growling vocals and the mesmerizing synths even empower the obscurity that drips from this song. Each time if have to gasp for air when Otsepenevshiye's cover version of Moss is over.
Another track taken from Das Absterben is Regennon Re-Generated, covered by Troum (FYI: on March 6th 2016 I did upload the review for new album Acouasme). It's a mighty Drone-epic, at least as bleak and hypnotic as Troum's raison d'être anyway. As a matter of fact, definitions like 'art' and 'beauty' conform the whole package. Regennon Re-Generated is a passage through a dreamlike state, leaving the listener with a sentiment of melancholy, wonder and ecstasy.
Eidolon. A Tribute To Reutoff ends with Cisfinitum's Ambient / Drone tribute Last Train To Reutoff. The project brings a rhythmic, somewhat tribal industrialised soundwave, which includes, by the way, an excerpt from At The Gates Of Enchanted Garden (from 1998's Three Souls For A Reasonable Price. The 'train' mentioned in the song's title is quite appropriate, as if this composition truly takes you on a trip through desolate landscapes – just feel the rhythmic pulses and enjoy…
What can I add to complete this review? So much and, honestly, nothing at all, I guess.