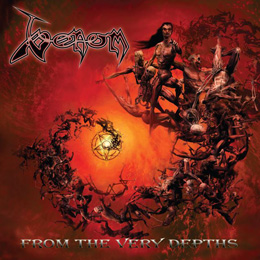 Venom was formed in 1979 in Newcastle Upon Tyne – UK. I remember when their first album 'Welcome To Hell' was released in 1981.  Although the record itself or rather the recording, was of a poor quality, it were the songs that created quite a shock in metal midst.  This we had't really heard before, although we had been warned by the release of their first single ' In League With Satan/Live Like An Angel'.    To say this band, especially after the release of their second album 'Black Metal', has influenced countless trash metal bands over the years would be an understatement.
Now, over 30 years later, Venom is still active, although only one original band member is part of the actual line-up, Conrad 'Cronos' Lant, who himself left the band between 1987 and 1995.
Having quickly lost my interest in this band, on one side because musically there were far better bands around, on the other side because I found it wasted money – why spend about 10 Euros for an LP if there are only a few tracks that are really good, or worth listening, when for the same price you could have an album that contains 8 good tracks and two mediocre ones.
So I  was interested how this album would turn out.  And to be honest, after all these years, I must admit I liked it.  Is seems this line-up of Venom has learned to play their instruments, that or either the production of the album has been able to eradicate the flaws. My wife even asked me, when I put the album on for a last time while writing this review, if I was listening to Metallica, talk about a compliment.  It might not be an album I'd play each month but once a year, why not.