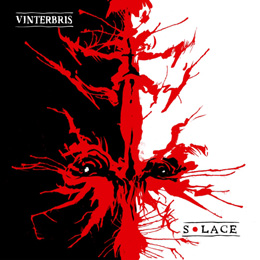 Release Date:
Wednesday, December 10, 2014
Shortly after the release of the fantastic Atrum Tempestas-album Néant (see update November 10th 2014), very young Portuguese label Nordavind Records release Solace, the second full length of Norway's Vinterbris. The band was formed in 2008 in the city of Bergen, and there were an EP and a self-titled debut full length before. This sophomore full recording deals with man's struggle called Life, and its place in history and within Nature.
Solace has a total running time of thirty six minutes and was digitally released via Code7 in June. What it brings is an energetic, fast and epic form of traditional Black Metal in the vein of the Norwegian scene specifically, and the 'general' Pagan / Viking / Nordic scene in extension. The melodious songs are pretty heavy and aggressive, and do have a certain catchiness. The latter, however, is not of the stupid and narrow-minded poppy kind, but it rather has to do with the up-tempo structures a. o. Despite a lack of originality (yet I've said it a thousand times before, and I will repeat it once again: it's better to lack originality and to create great music, than trying to renew the scene and falling into ridiculousness), the six compositions are written carefully, and performed professionally. And it's the interplay of the individual details, being cohesive, that makes this album interesting. The members (vocalist / guitarist Henrik Skar, bass player Kristoffer Aalhus, guitar player Richard Hemre Dahle, and drummer Ivan Rolstad) for sure are experienced and crafted, and it shows throughout the whole album. In general, the songs are melodic and fast, with hints of melancholy and, at the same time, harmony (despite the lyrical theme). And I won't finish without mentioning the fine balance in between rather atmospheric, integer parts, going sweetly hand in hand with faster, aggressive outbursts. This comes with a well-thought equilibrium, not focusing on one of these two specifically, yet rather searching for the best balance in between both of them.
The production is as needed: little under-produced yet not too lo-fi, with a nice balance in between the individual elements. I have no idea where this material was recorded, but I wouldn't be surprised if it was at the band's hometown-based Grieghallen Studio.
The biography mentions Primordial and Moonsorrow as sources of inspiration; I'd like to add the likes of earlier Borknagar, Agalloch, Crimfall, Falkenbach and Finsterforst…