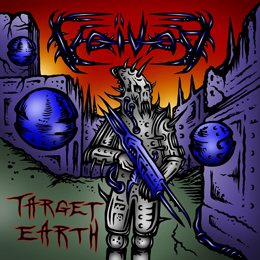 Target Earth is the sixteenth album and the thirteenth studio albumby the Canadian Heavy Metal band Voivod, which was released on January 22, 2013. This is the first Voivod studio album to feature Daniel Mongrain on guitar (replacing the late Denis D'Amour and the first since 1991's Angel Rat with Jean-Yves Thériault on bass. (wikipedia)
I remember Voivod's preceding album Infini as an ok but not really outstanding prog scifi metal album, so I wasn't exactly looking forward to their new album Target Earth, but luckily I was wrong.
It's hard to pick out highlights, because all songs are far above average. I especially like the aggressive "Kluskap O'kom",  the weird "Empathy for the enemy" reminding me of Tomahawk, but also the dark and dreamy "Warchaic", which could be a lost twisted Opeth song, is great. The instrumentation is flawless, too, coming with bass lines that never fail to amaze, and Piggy would be very proud of the angular dissonant unorthodox jawdropping guitarparts by Daniel Mongrain.
Maybe Target Earth is not the Voivod-album that fans have been waiting far too many years for, but nevertheless, this still is an album you have to listen to several times before it will kickstart the Dimension Hatross/Killing Technology adrenaline in your brain, but once you're there, you don't want to go back again.