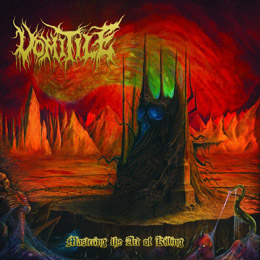 Album Title:
Mastering The Art Of Killing
The scene from Cyprus isn't that impressive when it comes to the number of bands out there. With exception of Arrayan Path, I can't remember having written a review (for Concreteweb) for a band or project from that Mediterranean island. Enter Vomitile, formed in 2007, and creators of two pieces before: the nameless 2010-7"EP and Igniting Chaos, their debut album from last year. The professionalism of their former recordings gave them the opportunity to open for the likes of Sodom and Obituary, by the way, and the quartet (Khatch and George Yildizian, respectively on bass / vocals and guitars, drummer Hugo Olivos and guitarist Panos Larkou) was able to have this second album, Mastering The Art Of Killing, having mastered at the famous Stage One Studio with Andy Classen!
Mastering The Art Of Killing, which has a total running time of thirty seven minutes, goes on in the vein of the former material, i.e. a timeless and universal approach of harsh, unstoppable and technically executed Death Metal. Grave-meet-Behemoth-meet-Morbid Angel-meet-Incantation – that sh*t, you know. The stuff is fast, hammering and thunderous, but this counts for the whole album. Not once there's some variation, unfortunately. Besides, it sounds as if I've heard every single track before. No, it's not bad because of the lack of originality, but it's not outstanding either (at all). The second half of the album is little more convincing, with more mature tracks, I have to admit.
Within the current scene, this does not fulfill one's expectations…