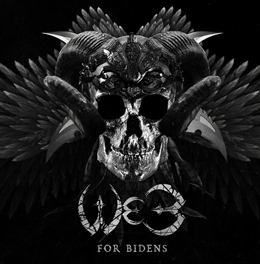 Greek band W.E.B. (it seems to be the abbreviation for where everything begun) were formed about twelve years ago. They recorded some material that was pretty popular in their home country, but outside Greece they never really broke through. And despite the acceptable quality of this third full length studio album, I am not sure they will now.
For Bidens was recorded by Sakis Darkface (v, g), Ioannis Theodorakis (d; he left in meantime), Allan Fall (g), and Alex G (b) at one of Greece's best known studios, Devasoundz, with producer Fotis Benardo (involved with bands like Septic Flesh, Nightrage, Dream Devoid, InnerWish etc.) (note 1: he did some producing work for bands like The Fallen Within or Fallen Arise too) (note 2: Sakis co-produced the stuff) (note 3: the guitars have been produced by George Emmanuel of Rotting Christ-fame). The mix and mastering were done at the Lambesis Studio by Daniel Castleman (think: The Bridal Procession, The Fallen Within, Darkness Before Dawn etc.), and Chris Antoniou (Chaostar, Septic Flesh) offered a helping hand by arranging the orchestral programming.
On For Bidens, W.E.B. combine melody with aggression, and catchiness with modernism. It's like a collage of Electronics and Industrial, Black and Death Metal, and additions of Gothic, orchestrations and symphonics. This kind of Dark Metal is not that unusual in Greece, the oppressing atmospheres and catchy song structures included. The second half is much stronger (read: less irritating) than the first, with the bizarre Clamor Luna-trilogy included.
Pros: the variation (one cannot deny a huge diversity on speed, structures and atmospheres), the addition of a couple of very bombastic injections (for example in Nightmares In Disguise or Prince Of 1000 Frozen Suns) and the addition of Horror movie-alike neo-classical chants, some occult spheres, and a couple of more abyssal riffs (Eligos); appearing and presented way too little, unfortunately… Also the weird instrumental intermezzo Crimson Dawn and the higher mentioned Clamor Luna-epics I can appreciate a lot.
Cons: the almost poppy execution of certain (too many) pieces, the infantile energetic grooves (the opening riff on Malaise, for example: haven't I heard this a hundred of times before?...), the neurotic electronic parts (Dub-Step elements included), the exaggerated would-be heaviness, the lack of organic structures, the sometimes almost pathetic Fingerspitzen-solos, and the over-produced, über-clean sound.