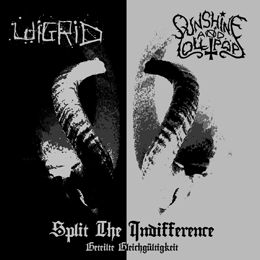 Album Title:
Split The Indifference (Geteilte Gleichgültigkeit)
Young Berlin-based label Bleeding Heart Nihilist Productions release this interesting split, intelligently entitled Split The Indifference (Geteilte Gleichgültigkeit). The first two tracks are done by Wigrid (aaaaahrgh, do they still exist?), the four others by joyfully named Sunshine And Lollipops. And it's a rather confusing album, I think, for both projects do perform pretty distinctive (Black) Metal. But that contrast might be a statement, a convinced f*ck-off in the face of the ignorant / arrogant establishment.
Wigrid (here acting as …(Wigrid)), a solo-outfit of Ulfhednir, is known for two highly acceptable albums during the first half of last decade, yet as from 2005 on, we didn't hear anything at all anymore by them / him. It has to do with psychiatric stuff, but that's of no importance. Or better, as a matter of fact it is of importance, since Ulfhednir's mental state helps to create the kind of stuff he performs. He does everything himself, i.e. all instruments and voices, as well as mix and production. Only the final mastering of this split was done by someone else, and more specific the famous Patrick W. Engel at his Temple Of Disharmony Studio (Triumphant, Nemesis Sopor, Epitaph, Chaos Echoes, Hellish Crossfire etc.). First piece is called Desoziierend, being an instrumental track, based on a melancholic and hypnotic guitar pingle, with a soft noisy soundscape at the background. It's a fine introduction, but this project's raison d'être comes to its peak through Trostdistanz, a ten-minutes-plus composition within the conversant approach of Wigrid's former material. It's a slow and melancholic track, and if it might be classified, it belongs to the DSBM-current. Trotsdistanz is based on an integer and sober yet very fine tremolo lead, injected by repetitive and monotonous guitar riffs, a pounding rhythm section, and the characteristic, little hysteric screams of Ulfhednir. The song, despite its length, grasps and holds your attention, if only for the variation (tempo and structure) and the superb song writing. In about half of the track there's an acoustic piece, which truly fits, defining the desolate spirit of this act.
Take some of Burzum's grimness, the cold atmosphere of My Dying Bride (cf. the opening sequence as well as the initial riffing after the acoustic intermezzo), the depressive elements of early Shining and the melancholy of Forgotten Tomb, and you might have a clue. 8,5/10
------------------------------
Sunshine And Lollipops are a young German duo (Alex Ithymia and Veenus Christ), which I do know from one EP only, 2012's Heartful Of Sunshine. They call their style 'Absurdist Anarcho Black Metal', lyrically based on the works of Schopenhauer and Camus. On this split Sunshine And Lollipops bring two new tracks and two songs from the formerly mentioned 7"EP in a remastered form. It differs completely from Wigrid's contribution, by bringing a very dirty, little punky interpretation of Thrash-edged Black Metal with a certain First Wave-attitude. The material is highly energetic and very technical, though based on the elementary tradition of misanthropy and malignancy. What strikes me, and that's clear as from the very first track (End Of The Rope) is the prominent variation. The tempo, for example, can speed up completely, then again it decelerates to abyssal-doomy proportions. And with a song like Für Klara, they have their own instrumental acoustic contribution too. 8/10