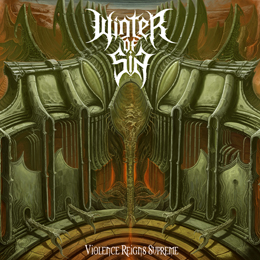 The Dutch band Winter Of Sin (hailing from the city of Groningen) was formed at the end of last century by Ricardo 'Schmerz' Gelok (also active in Gheestenland and previously in bands like Krematorium IV, Finsternis, Windsmear or Hagel; Ricardo also owns the small yet highly interesting Dutch Death / Black-label Non Serviam Records) and Dirk 'Schrat' Barelds (ex-Katafalk / Cantara / Krematorium IV / Finsternis). Their first demo (Hailstorm, 2000; at that time still focusing on melodic Black Metal) made it to 'demo of the month' in the German edition of Metal Hammer and catapulted the band towards the top of the West-European Metal scene. With different line-ups, Winter Of Sin recorded more material, which evolved from melodic Black Metal to a faster and more brutal Black / Death hybrid (amongst them two full lengths that were presented to the Death Audience via Austria's CCP Records). Besides, they were able to play along bands like Mörk Gryning, Taake, Asphyx, Ancient or Negura Bunget, to name but a few. However, after 2008's Razernij (Dutch for 'fury') there was a long period of relative silence. On 11/11/11 the band self-released a two-track promo (both songs, by the way, appear on this new studio album), but until now: nothing… Mark 'Mort' Hendriks and Christiaan 'Snotholf' Krol left the band, and Winter Of Sin started searching, once again, for new warriors. The duo Schmerz and Schrat recruited two former God Dethroned-members, drummer Michiel van der Plicht (also formerly in Katafalk, Prostitute Disfigurement, Toxocara, Detonation or Travelers In Time) and vocalist Henri Sattler (ex-Ministry Of Terror / Lords Of The Stone, and currently in Soulburn). This quartet recorded the new Winter Of Sin-album Violence Reigns Supreme (he, no Dutch title anymore???) with producer / engineer / mixer Jörg Uken at the Soundlodge Studio (think: Sinister, Dying Humanity, Dew-Scented, Izegrim, Inhume etc., as well as, evidently, God Dethroned; can you see the link?).
In comparison to the past there are evident comparisons as well as new elements. Still the band succeeds to be highly melodic. The leads and most rhythmic riffs are based on splendid melodious structures, and these tremolo pickings give the whole a somewhat mesmerising boost. Also in the vein of the past are the modestly dissonant and technically well-performed structures (without the use of exaggerated breaks or progressive hooks, luckily) and nice changes in speed (the injection of blasting assaults have not gone, nor the few decelerations). New are the characterising craftsmanship of both new members. Henri's grunts are pretty typifying, and each God Dethroned-worshipper will immediately recognise his deep throat. …which does fit perfectly, by the way, to the ingenious war-hymns. His sweet voice has a prominent role, but it does not overrule the whole; on the contrary, Henri's part of the violent game comes in a perfect balance with every other instrument. And Michiel's drum patterns are as insane as his contribution to his former bands, with also my personal addition (like I did for Henri's collaboration): fitting perfectly to these fabulous lullabies. The sound too is little different, for being more dense and oppressive. Indeed, Violence Reigns Supreme sounds more obscure and ominous than ever before. Of course the subtle addition of, for example, some modest keyboard lines (like at the end of Maelstrom, or as eerie introduction to Unleash Mayhem a.o.) or other original details (do I hear bells in Eternal Winter? – and what about the use of xylophone as part of Astral Death Reign Algorithm's introduction?) are part of this grotesquery. For some reason, this album seems to be the most epic one to date too, because the song structures are written, and performed, with more attention, I guess, for the equilibrium melody-aggression. And of course the necessary acoustic parts are part of the whole as well, both as excerpt in some tracks, as well as intermezzo (Virus).
Recommended if you adore the likes of Swedish acts like Amon Amarth, Dissection, Naglfar, Unanimated etc., or LowLands-supremacy à la later Battalion and, of course, God Dethroned.