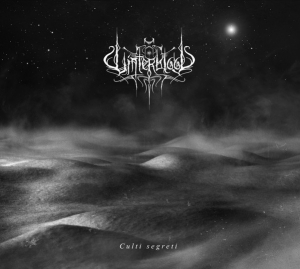 Release Date:
Saturday, November 26, 2016
I have always adored that imaginative, winterly Ambient stuff à la Moloch, Symbiosis, Sieghetnar, Vinterriket, Nebula VII and the likes, and another act within this non-limitative list is Italian one-man project Winterblood.
Just like the fabulous album La Via Di Neve (http://www.concreteweb.be/reviews/winterblood), Culti Segreti gets released via one of the greatest labels from Russia (and there are quite some excellent labels out there!), Frozen Light. The CD-edition is strongly limited, hand-numbered, and it contains, like we're used to, sober yet fantastic and deeply appropriate artwork that breathes desolation, coldness, soberness and despair. The four compositions have been written and recorded in 2016 by Stefano Senesi, and they strongly go on in the vein of this project's grandiose past!
Culti Segreti surprises me with the lengthy (twenty minutes of duration) opener Radura. For some reason, the feeling I get is quite differing from what I'm used of, for this specific piece is quite psychedelic in essence, rather than atmospheric. It reminds me of cosmic drones of imaginary Dungeon Synth. Weird, yet then again not at all either. Fragments of Shadowcaster's Abandonment might come to mind. Radura is like a long-stretched and monotonous soundwave, dually-layered and secretly distorted, like a reflection of grieving experiences based on an unknown cause. Introspezione is the sole 'short' piece (6:41; both other tracks clock fourteen minutes, and I did mention the length of the opener), and it reminds me more of recordings like Incantazione, Le Fredde Ali Dell'Inverno and the likes. it's minimalistically performed, yet oh so oppressive and polar in temperature. Precipizio returns to the utterly asphyxiating grimness of La Via Di Neve, for creating an unescapable web of haunting drones and obscure ambience. This is a soundscape that haunts with its dreamlike leading melodies, those oppressive, little apocalyptic background waves, and the subtly presented additional horrific-mechanical sounds. Comparable, yet at the same time even more mesmerizing, is the fourth and last piece, La Forza Del Vento. This is an extremely monotone, static piece of darkened droning ambience with a suffocating, bewitching atmosphere. Despite the lack of energy at first listen, there is a dynamic elegance going on, only understandable after a deep listening experience – yet as meditative soundtrack it does just fine as well.
Culti Segreti might not be the most adventurous Winterblood album to date – at all. However, the intense experience is very attractive, arousing, bewitching and intriguing, and once again the result is of a very high level. Nice!