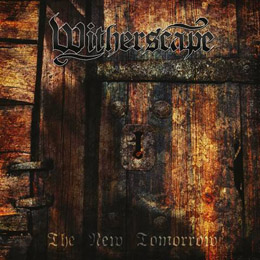 This album is available in two formats, on is an EP CD, containing five tracks, the other one is a 10 track full CD..  On the EP are 5 unreleased songs, of which three are covers ('Defenders Of Creation' by Warrior, 'A World Without Heroes' by Kiss and finally 'Out In The Cold' by Judas Priest.  The longer version contains some special mixed versions as well as 2 additional cover songs.
This release serves as a bridge between their 2013 debut album 'The Inheritance' and future output, which means we may expect some new material from these guys. Bear in mind that as yet Witherscape is not a real band, since only 2 people are behind this release.  One is Swedish vocalist/multi-instrumentalist/producer Dan Swanö, and the other is Ragnar Widerberg, also a multi-instrumentalist.
As during the 90ies, I didn't really follow the metal scene that much, being more into AOR at that time, the name of Dan Swanö didn't ring a bell, and neither didn't the bands he performed in (Edge Of Sanity, Nightingale, Bloodbath), but what he delivers on this album is outstanding.  I guess I'll have to look for the first Witherscape album as well.  He has a very clear and powerfull voice.
It was good to hear these covers in a different version, I especially liked the Warrior cover – although a lot of people might not have heard the 1985 original, but the Priest cover was quite good as well.
A very appreciated piece of music !