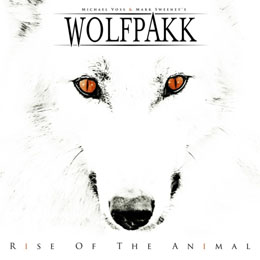 Release Date:
Friday, February 27, 2015
Wolfpakk's 'Rise Of The Animal'  enjoyable slice of classic Metal. Michael Voss and Mark Sweeney have again partnered up to bring more Metal mayhem to the masses via their third chapter of their allstar project.
Where else can you find Don Dokken, Michael Kiske, David Reese, Joe Lynn Turner and Marc Storace all singing on the same album? Where else can one hope to find Jeff Watson, Bernie Tormé, John Norum, Doug Aldrich and Axel Rudi Pell throwing down guitar tracks on the same disc?
Not to mention stickmen the quality of Simon Phillips, Mike Terrana, Chris Slade, and Mark Schulman - yeah, this record is packed from beginning to end with talent and Voss and Sweeney have written a fun filled bunch of heavy hitting tracks on which their guests can perform.
The fireworks commence on 'Rider Of The Storm', being driven down the slalom by Mike Terrana's ferocious drums, and guitarist Jeff Watson (Night Ranger) and vocalist Andi Deris (Halloween) take this tune straight to the stratosphere. When Watson rips into his solo, you'd better hold on to your seat - damn, I wish this guy would put out more of his great playing.
Marc Storace of Krokus is up next, and 'Sock It To Me' is one of those silly and fun romps that can make hard rock so much fun when properly done. Michael Voss handles the six string duties and he righteously tears it up. The rock onslaught continues with 'Monkey On Your Back', and Danger Danger's Ted Poley takes over the microphone and what separates this from most all star projects is first, that the songs all hold up, and the performances are all passionate and on the mark. Ryan Roxie of Alice Cooper's band handles the sizzling six string duties and Mark Schulman (Foreigner, Billy Idol) plays some killer, killer drums.
Things slow down for the intro of 'Highlands' and then the rock kicks back in with Joe Lynn Turner and Bernie Tormé's turn - Pablo Allen (Skiltron) supplies the bagpipes, and when Tormé uncorks his solo you'll be smiling ear to ear, it brings an Irish tear of joy to my eye. Another winner. 'Black Wolf' is a hard charging thumper that serves as a mission statement of sorts. Rick Altzi of Masterplan takes the mic, and Voss contributes the classic Metal licks. The only thing that gives me pause with this record is the fact that I won't be seeing it on the stage, but hey, I'll take a coalesced rock record just the same.
The combination of ex-Accept man David Reese and the King of Europe himself, John Norum delivers just what you'd expect and 'Somewhere Beyond' is the album's best anthem - this is some majestic magic. This track is worth the price of the album - one of my favorite tracks of 2015. Norum's solo is very Schenker-iffic!
Talk about combinations, how about Don Dokken and Doug Aldrich? Aldrich scorches the earth with his screaming Les Paul and Dokken Don contributes a very appropriately poppishly melodic chorus. 'Running Out Of Time' would have sounded right at home on the Sunset Strip in the mid 80's.
'High Roller' features the distinctive tub work of Chris Slade, and you can hear why he got the call once again from the AC/DC camp for their huge summer tour. The quality stays high with super singer Michael Kiske (Solo, Unisonic, Halloween) and axe slinger Axel Rudi Pell - when Kiske takes over on the chorus you'll hear why he may be my favorite vocalist in Metal today. Flipping brilliant.
What you don't expect to find on the common project album is an epic track, but 'Rise Of The Animal' is just that. Kiosk's roof raising vocals, and Chris Ivo's soaring keyboard work take this to a very special place, and Pell's axe work is equally incendiary. Even at almost nine minutes long this one ends too soon.
'Universe' wraps things up with a slow march down melodic metal avenue - Michaela Schober is not a voice I'm familiar with, but I am instantly in love the minute I hear it. A great way to end a very surprisingly pleasant trip through the world of Metal as seen through the eyes of Sweeney and Voss - they've truly outdone themselves with this one.