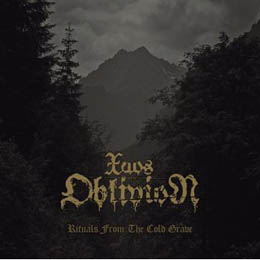 Album Title:
Rituals From The Cold Grave
Release Date:
Wednesday, April 29, 2015
My first acquaintance with Xaos Oblivion was in 2008, when this Polish horde did release the album Antithesis Of Creation. Before there were some demonstrational recordings under the name Oblivion, yet since there were several Polish acts with that very same moniker, the name turned into Xaos Oblivion. Some more albums did follow under the Xaos Oblivion-moniker, each time praised and hailed, at least by those who understand quality. As from the album this review deals with, the project morphed into a forceful entity with two long-time friends, who are (or were) colleagues in acts like Perdition or Abusiveness too: founding member and vocalist / multi-instrumentalist / producer / mixer / master / lyricist Kamil 'Xaos Oblivion' (also in e.g. Demonic Slaughter and Open Hell, amongst many others), and guitar player Piotr 'Revenger' (think: Deivos, Blaze Of Perdition [the successor of Perdition] or Ulcer, besides many others), who debuts with this specific project.
Rituals From The Cold Grave is the fifth album, having a total running time of just over half an hour, once again decently upgraded with splendid artwork. The album opens with Funeral Trance, which brings an enormously grim, raw and necrotic form of timeless Black Metal, searching for a fine equilibrium in between melody and energy. When talking about the energetic part, there is no difference in between the varying speed; no matter if Xaos Oblivion blast like a hurricane, or slow down like a, eh, like a… like a snail (isn't that a cool comparison?), the heaviness remains. But in general I think the variety did increase throughout the years. No, it does not mean that this project turned into a progressive act. …because that's not the case at all. But there are more changes, loops and tricks within each single piece, yet without building a mainstream or catchy character. It's rather like some Marduk-meet-Mayhem-ish thing, yet translated through a Polish vision.
I have the impression that this album comes with a more 'back to the roots' attitude, for being less explorative and adventurous than the last ones. But that is not a disappointment, this statement. There is no reason to dislike this stuff, in case you won't focus on renewing elements only.