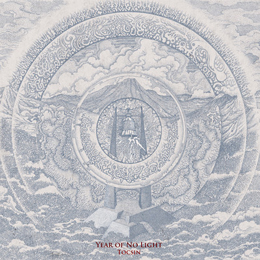 Release Date:
Wednesday, November 20, 2013
Bordeaux… I do appreciate some of the wines coming from that era, even though not every sub-region out there can completely please me (I am a connoisseur-amateur, with a profound passion for wines and distillates, but that's another story). However, there's another Bordeaux-based existence I do appreciate enormously: Year Of No Light. This band was formed at the beginning of this century and they did record a handful of highly acceptable releases with a mostly breath-taking atmosphere. The interested ones might look for the review I did for this band's split with thisquietarmy, posted in December 2012.
In mean time, the sextet visited Eastern Europe for some live gigs, and they were able to sign to Debemur Morti, one of my favourite labels (but this too isn't but another, personal story). At fisrt, I found it rather confusing to see Year Of No Light on Debemur Morti's roster, but after the first listen of this new album, I did understand the logical explanation. After three of four more listens, I did not accept any doubt anymore.
It brings us to the actual review on the third full length studio album by Year Of No Light, called Tocsin, which has a total running time of almost one hour, even though there aren't but five titles on this album. One track clocks six minutes, all others last for more than ten minutes (in between ten and fifteen minutes each). But despite the long average duration of each composition, Year Of No Light once again impress with their intelligent and mostly interesting pieces of Aural Art. Though the band is totally instrumental (no vocals at all implemented in the music, nor samples or fragments whatsoever), it isn't boredom that prevails. I usually appreciate the grunt, scream, chant, choir or whisper, but when talking about this kind of majesty, the lack of vocal additions gets excused mercifully. The tracks combine different genres, but the total package must include definitions with descriptions like 'Post-Metal', 'Ambient' and 'Drone-Sludge'. The opening title track, for example, starts with a mesmerizing prologue, based on ritual drum patterns, floating keyboard lines and toxic (semi-acoustic) guitars. After three minutes, the heavy side of the band appears with a hammering, battering, pounding Doom-grotesquery beyond acceptance. The melodies brutally drone, yet with a more 'melodic' approach than before. It means: more atmospheric, emotive, spiritual. As a matter of fact, this track is at least as abyssal obscure like the band's contribution on last year's split with Canada's thisquietarmy. It's massive, colossal, monolithic. Next sonic entity, entitled Géhenne, which is the shortest track, reminds me much more to the earlier years of the band. This composition is enormously energetic and up-tempo, with an unstoppable groove of the most sinister kind. It's kinetic, blackened and almost thrashing, maintaining these unique structures, courtesy of the band with grandeur. Désolation, the third epic, starts like the opener (and both next songs do too): with an atmospheric introductional excerpt, dwelling in spheres of nebula, misanthropy, desolation and desperation. It sounds slightly funereal, such description, but I guess this genre breathes a spirituality comparable to some other Metal genres, i.e. Funeral Doom, Ambient Necro-Black and Suicidal Black Metal. And once again it shows the futile border in between all these currents. What if AmenRa and Horseback joined forces to pay tribute to Kongh or Neurosis, with the rawness of Sourvein or Alkerdeel, the grimness of Gorath, and the droning harshness of Stumm?...
Tocsin is a hypnotic, psychologically incorrect and, at the same time, a warm pleasure to experience. The band does not surprise anymore for what they basically do. Nevertheless, they still do make me mentally mad (the perfect way!) with their unique songs. This album shows the continuously evolving strength and that deserves nothing but praise! Hail!