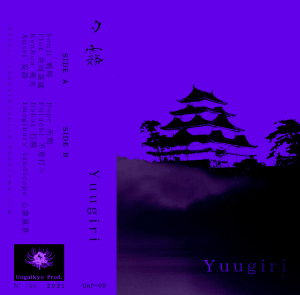 Release Date:
Thursday, October 14, 2021
As you might know in the meantime, Moloch Conspiracy's frontman Julien Lacroix runs the new label Ungaikyō Prod., which releases Electronic Music (from Dark Ambient to Dungeon Synth) that is inspired by the (ancient) Japanese culture. The label releases material from some of Julien's own solo-outfits (like the one this review deals with), as well as from other artists. As said, there is one goal: dark-edged Music with a focus on old Japanese traditions.
Yuugiri is one of the projects by this guy that also deals with Japanese Folklore. Julien has a few other outfits within this source of inspiration too, by the way, like Goryō, Juuyokka or Ungaikyō. Everything for Yuugiri was written and performed by Julien himself, including the fitting artwork. This untitled debut is the third release on the Ungaikyō Prod. label, available the digital way, evidently, as well as on cassette. The latter is a limited pressing with sober yet stunning dark-colored cover art (representing a 'ji' aka a Japanese temple, if I am not mistaken, in a stunning black-and-purple setting).
The conceptual approach crawls around in the mind of the protagonist, looking back to past events of battle, struggle, defeat and victory. An unreal feeling sweeps my consciousness into imaginary landscapes. However, I have known the battles, I still remember my story. Blood, wounds, tears and torments, cries of victory and severed heads. Yet everything is erased in this fog which sometimes lets appear some flashes of light…
Yuugiri does remind me of the first project within this genre, Goryō, in both atmosphere and execution. And that execution gets once more done through percussions / acoustic instruments / synths we might recognize, as well as some traditional instruments from Japanese soil, such as the koto (a string-instrument comparable somehow to a zither, yet with its characteristic sound) or the flute (I do not know the name of this typifying flute). It is like a soundtrack once again for so-called kabuki theatre, which some people might listen to when visiting a traditional Japanese restaurant or bar (as a dedicated, or according to my wife an obsessed, sushi / sashimi / maki amateur, I am not a stranger to this specific tone). Yet then again, the final concept gets deeper, delving into spheres of darker thoughts, experiences and states of the mind. Let's get deeper into this statement.
The equilibrium of traditional Nippon-oriented Folklore Music (the kabuki-style, as mentioned) and a rather mesmerizing approach of basic Dungeon Synth does define this project's untitled debut-effort (so it does too when referring to several other releases by the artist behind it). That folkish thing is like the spine, giving the whole adventure its recognizable sound-color and tangle. Yet then again, the dungeon-like attitude drenches the whole into a mystic, dark-edged and mysterious nebula; not a suffocating mist, yet rather one that indeed covers the whole in an ominous darkness, pierced by confusing and disturbing rays of light. And the weird drum-beats and somehow avantgarde-like percussions strengthen the emotion of elegance and serenity at the one hand, and hypnosis / alienation at the other.
The result teases the listener's subconscious, evocating wonder, imagination and adventure; even meditation and supernatural power might occur. Yuugiri is an eight-track album, clocking almost half an hour, with titles in both Japanese and English. That too does tease, intrigue and disturbs at the same time. But it works, the whole thing works, for the lucid ambience trespasses the borders of normality and melancholy (cf. the concept that reflects on the protagonist's memories of the past).
https://ungaikyoprod.bandcamp.com/album/yuugiri