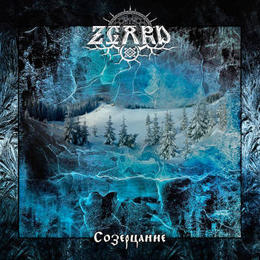 Zgard, formed in 2010 in the region of Lviv, are a project by Yaromisl, who's also active in Говерла (to be pronounced as goverla), by the way. The past two years, Zgard released three albums and a split (with Romanian act Prohod), all of them bringing a pretty typifying form of Pagan / Black Metal. This fourth album was recorded with his former Говерла-colleague Hutsul once again, who performs the flute, a very important instrument in this project's musical expression (and in Ukraine in general too; other traditional instruments used, by the way, are sopilka [an Ukrainian wooden flute] and vargan [Slavonic traditional mouthharp-ish instrument which is strongly comparable to the Jew's harp]), session drummer Jotunhammer (of БурEвiй-fame), and session vocalist Dusk (known from Stryvigor or Endless Battle), who does the screaming parts (Yaromisl takes care of the clean singing and choir chants).
Contemplation lasts for more than an hour and can be considered the 'summary', if you want to, of all former recordings. Lyric-wise this project focuses on Carpathian themes (history and culture; the sopilka, for example -see higher-, was an instrument used especially by the Carpathian tribe of the Huzul ['zgard', by the way, is a word for 'amulet' used by this ethno-cultural clan; do you see the connection in mean time? - and no thanks for all this tasty and interesting, yet unnecessary additional knowledge…]), and all is sung in the native tongue (one track in Russian as well, by the way), but with translations in English. If I refer to a song in the next paragraph, I will make it easy for myself and you, and I'll use the English titles (sorry folks from the band's home country…).
The album opens with Highlands (ten minutes of length), which starts with an esoteric and ethnic female chant, but soon (after one minute or so) it turns into a vast composition in the most epic Pagan-Black vein. It's melodic and rhythmic, mid-tempo yet energetic, and comes with little hysterical-sounding screams, majestic leads and nice atmospheric keyboard lines. After a couple of minutes, the songs transforms into a slightly ambient-oriented piece with acoustic guitars and synths, soon joined by flutes (are these the sopilka-flutes referred?), but somewhat later on it returns to the majesty of the Pagan Metal glory from some minutes ago. Also the clean singing and some epic choir join the aural experience. And finally, the outro of the track resumes where it all started, with the female chants. Yes, this was only the first track. And this is the evolution of the whole album. Next pieces too combine Pagan / Viking / Black Metal parts with atmospheric Folk passages, melancholic Ambient-excerpts etc. Besides, it is not a predictable sequence of pure logics; no, Zgard dare to draw beyond the lines, by using unusual yet well-fitting details. What about the bells-accompaniment in Through The Forest (a song little heavier than the opening one), the neo-cosmic intermezzo Silence, the use of spoken words and floating operatic female chants (in Incarnation Memory), and so on, and so on.
The production is something needful to mention as well. It's massive and bombastic (the multi-layered hymns of course need it, but it is not that evident), and clean yet not over-polished. I might have preferred a slightly rawer approach, but that isn't but some pettifogging (I apologize…).
Imagine a mixture of Graveland, Munruthel, Kroda and Bathory… Contemplation is the heaviest and most intense Zgard-album to date, and in consequence, probably the most impressing one too (I do think so, and since I do not care about what you are thinking…). Therefor it is a convinced recommendation for every amateur of Svarga Music specifically, or Pagan / Black Metal in general!