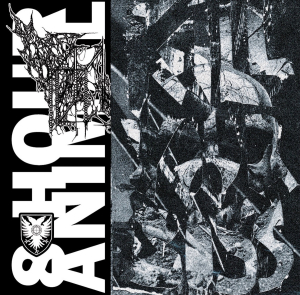 Hailing from New York – more specifically Poughkeepsie (ah, I adore that name, though I do not exactly know how to pronounce it decently) – 8 Hour Animal is an Industrial / Electronics act that did impress undersigned deeply with their Sentient Ruin Laboratories debut Resigner (link for the review: see below). In the meantime, this project recorded and released some more interesting stuff, and earlier this year they did also finish a new effort for Sentient Ruin Laboratories, called Kill Your Boss.
This newest recording was written and recorded once more by sole member J., with mastering duties taken care of again by Josh Bonati (Pharmakon, Coil, Lust For Youth, Psychic TV, Zola Jesus etc.). The five pieces last for thirty-eight minutes and have been released digitally and on tape. It comes with quite strange yet fitting (cover) artwork (like with Resigner, by Paul van Trigt, known for his explicit and strange paintings, especially focusing on malformed faces and bodies, yet also known from his Experimental / Noise outfit Mot). Those visuals, by the way, do go extremely well with the sonic assault that characterizes this latest 8 Hour Animal symphony.
Those who could appreciate Resigner will not be disappointed by this new effort at all, for Kill Your Boss smoothly continues the raging fury and ill-tempered frenzy of the Sentient Ruin Laboratories debut. It's an insane, sadistic experiment of torturous aural sarcasm, delving into the most vehement pits where Power Electronics, Industrial and Noise gather. The 'songs' (yeah, whatever you want to label these five titles) combine heavily grinding electronics, crunched metallics, severe programming, screeching sampling, malicious string-rape, discordant machinery and ultimately crude, disformed shrieks.
However, 8 Hour Animal bring more than 'just some loud noise'. An example is the subtle addition of references to Ritual / Dark Ambient at the one hand, and Black Industrial / Noise / Metal at the other. The first has to do with some short and modest, yet quite important, passages that sort of procreate 'melody' (no, I'm not kidding). A good example is Under The Sod, which comes with some nearly-hidden yet somehow prominent synth-lines that are almost 'beautiful' in essence. The latter rather refers to the demonic, de(con)structive nature and the unstoppable all-light-of-life-sucking-away rhythms that permanently interact with each-other. Even the slower fragments are as sardonic and diabolic as the faster ones.
This 'Music' (don't you dare to laugh with this lapsus) sweetly translates the intolerant, narrow-minded, egocentric, dystopian, anti-social and contrarian concept behind the project, pinpointing our sordid existence and the daily alienation of mankind in (dis)respect to society, life, nature, and Mother Earth. …and our lost future… Annihilation to us all!
Sutcliffe Jügend, Concrete Mascara, Diabolos Rising, Controlled Bleeding, Godflesh, Ministry, MZ.412, Haus Arafna, Beyond Enclosure, Scorn; it's just a small list of possible references, but a hybrid of all these notorious acts might have 8 Hour Animal as ugly bastard child. …ugliness we might all adore…
https://sentientruin.bandcamp.com/album/kill-your-boss
http://sentientruin.com/releases/8-hour-animal-kill-your-boss
https://8houranimal.bandcamp.com/album/kill-your-boss
https://www.concreteweb.be/reviews/8-hour-animal