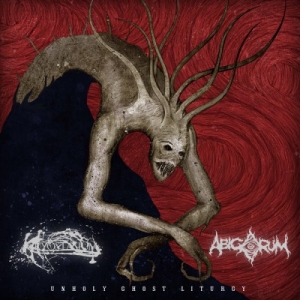 Release Date:
Thursday, September 29, 2016
When Aleksey Korolyov from Satanath Records did send me a new package of releases for both his labels (besides Satanath Records, Aleksey also runs Symbol Of Domination Productions), I was sort of aroused. There are different reasons. First of all, I do appreciate the variation of material. I adore labels that sort of specialize in one or another specific genre or sub-genre (Doom only, or just raw Underground Black Metal), but I can appreciate labels that focus on a wider musical range as well, at least when the genres have something in common (and without turning into commercialism or big-mass-production). That is the case with both labels mentioned that are founded and run by Aleksey: diverse in their musical outputs, yet with a focus on the heavier and darker sides of the general (Metal) spectrum. Also the qualitative results (this goes at least for the better part of the records) are highly appreciated by undersigned. It does not mean that I like every single release on Satanath or SODP, but the intention is to promote professional and honest stuff from the aural underbelly of Mater Terra, and there is no reason to dislike that attitude.
Some of the main reasons for my arousal and excitation were some specific recordings included this time, like stuff from e.g. Amezarak, Taiga, Abysmal Growls Of Despair, Gravespawn or Aornos, amongst several others. You will have the opportunity to read my thoughts about those releases (and many others) in a (near) future. But most of all I did look out for a collaboration released under the banner of Unholy Ghost Liturgy. Reason: this is a creation done by two of my highest-adored one-man projects: Cryostasium and Abigorum. The first one is the main outfit by Cody Maillet, a guy from Boston that brings something quite nasty and, at the same time, enormously intriguing. On April 29th 2015, for example, I published a review for his untitled EP, which was released as well, by the way, via Satanath Records. Together with his twin brother Thor, Cody did record some material too under the CTM-moniker; here to you might find a review I did, more specific for the CTM3-album, posted on this site on June 6th 2016. Oh yes, more Cryostasium material will be reviewed by undersigned as well, but first things first, and that's this specific album, an unholy collaboration that also includes Abigorum. The latter is a solo-outfit by label-owner Aleksey Korolyov, and I was crazy (or is it: I went crazy) by the nameless demo-MCD from 2012 (the very first release on Satanath Records), yet especially the title track from the EP My Haemophilia (review updated on August 20th 2014) did shock me – the positive way. And now Aleksey and Cody joined forces… So can you imagine my excitement now?...
Yet I have to admit that I was quite cautious when I started listening to Unholy Ghost Liturgy the very first time. It would be devastating if my high expectations couldn't be fulfilled. Anyway, the artwork drew my attention in the first place. It was created by Mikhail Larin aka Mosa Eye, who did some cover artwork before for releases by e.g. Dig Me No Grave, Tiran, The Nameless a.o. It shows a gigerian being, a vile monster, on a sober three-coloured background. Actually, the whole lay-out (Unholy Ghost Liturgy is a digipack album, released in an edition limited to 500 copies) is quite sober yet, to my opinion, enormously attractive.
But now, finally, some more 'depth' about the sonic side. This release consists of twenty titles, all together clocking about seventy minutes (indeed, not a soundtrack for the weak-hearted). All of them were written by both guys involved, and this during a period of more than two years. Aleksey once told me that there was something exciting to come, but I hadn't expected this. Hurray! I can give some general description about this recording, but there is so much to experience, so I'll focus on some details – a brief essay about some compositions on this album (describing all of them would be little exaggerated, seen the fact that this project-recording consists of twenty different pieces).
Fair is to start with the first impression you might undergo, i.e. the opening track Monsoon Release. Immediately both projects come to mind (which isn't always the case on this album – see further). Monsoon Release opens quite ominous and suffocative, referring to the funereal attitude of Abigorum. Quite soon it evolves into an ultimately obscure metallic experience, mingling that grim and doomy essence that characterises Abigorum, with the necrotic performance courtesy of Cryostasium. Damn, it makes me horny (figuratively, of course)… Next comes Unholy Ghosts, and like quite some other compositions on this album (like Forgotten Lines), it surely breathes the essence of Cryostasium's raison d'être. Especially when talking about the semi-chaotic execution, the discordant execution of guitar lines and percussion, and the rusty, rough sound - read: that striborgian ugliness ('ugly' in its most beautiful definition, evidently) - I must think about the American half of this project especially. But here too - and evidently that counts for the whole of Unholy Ghost Liturgy - there are quite some Abigorum-related injections, varying from those dissonant Funeral Doom aspects to the unpolished grimness of the untitled 2012-debut demo. More dissonance and sonic rape follows, but with a bunch of quite varying elements. Liturgia, for example, is such a piece, combining semi-acoustic guitars, playing a somewhat melancholic / depressed melody, with wretched voices (at the background), slowly pounding drum patterns, and integer bass lines. It's little spooky, quite breath-taking, and ultimately uncomfortable, despite the lack of being 'Metal'. The very same, at least more or less, goes for the better part of the compositions on Unholy Ghost Liturgy (Spruce And Cedarwood, The Quiet Room (a true Black Metal anthem, a pyroclastic hymn, a blackened highlight!), Santalum, Forgotten Lines etc.). Interesting too is the robotic (female?) voice that shows up a couple of times – I'm not sure, but this might be Hatsune Miku's voice, who worked with Cody in the (recent) past (here on such pieces like Infinite Colonization or Last Galaxy). Some other compositions are rather industrialised and psychotic / psychotropic / psychopathic / psychopathologic, such as the weird 'songs' Systematic Apocalypse (that mechanical result, and those vocals, WTF?!), Realization Of Regress (rather to be considered as some neurotic ritual from the Dark Ambient / Drone scene – hail!) or Negative Soul (including bizarre yet highly attractive church bell alike sounds and other percussional experiments). I also feel the urge (oink?) to mention the CME cover-track None, taken from the Mund album (CME is a short-lived project that included Cody Maillet and Macabre Enslaver's Mirg); a shorter, faster and more eccentric and hallucinogenic interpretation from the original one.
Overall, the production might be little substandard. That's a pity, even though I prefer such sound quality above a clinically polished one, evidently. However, sometimes the mishmash of noises makes certain aspects inferior to others, and that's a shame. You do miss some details, some points that deserve attention (I'm not always sure whether there is a voice on the background or not), once in a while, I think. I'm referring to bass and rhythm guitars (nevertheless, once in a while they do overrule, cf. Essential Death, a lengthy monster of Sado-Maso-Sonic-Torturing Pleasure), to the distant voices, or to the background noises. But it's not that terrible at all, let's be sure about that. It's just a (minor) point of criticism that must get ameliorated with both guys' next collaborative effort (hey, I hope there will be one…).