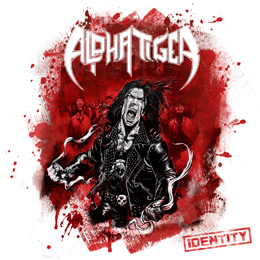 Line up :
Stephan Dietrich - Vocals
Peter Langforth - Guitars
Alexander Backasch - Guitars
Dirk Frei - Bass
David Schleif – Drums
Alpha Tiger are the kind of hard hitting' NWOBHM'-styled band who prove that true heavy metal will never die. Reminiscent of the first 'White Wizzard' record (Which is arguably also the first Holy Grail record) Alpha Tiger's new release iDentity is a very fun heavy metal record that will get your head banging and body shaking. Alpha Tiger are a joy to listen too and you can tell that the band had fun recording this record. This is what metal is all about, good times, flashy solos, and choruses that get your fist pumping as you sing along with pride.
I think that the sheer enthusiasm and sense of fun behind 'iDentity' is what makes it so enjoyable. 'Alpha Tiger' have clearly gone all in on this album and now we sit here as they gloat, confident in the knowledge that they have put together a record that few are going to forget any time soon. My only complaint is that some of these songs are maybe a little too long, here and there there's an extra bridge or verse that might have been better off being left at the cutting table. That being said, these songs are still a blast to listen too, and you're not going to forget it anytime soon. If nothing else the big choruses are going to capture your imagination and leave you spinning iDentity again and again.
My favorite songs are 'Lady Liberty' is a good example of the blend inherent in many of the songs – the song structure and lyrics are pure 1985, but the vocals are evocative of Keepers-era 'Michael Kiske', and the end result is a catchy, fun song. 'Long Way Of Redemption' and 'We Won't Take It Anymore', both of which are solid 'hair/sleaze' efforts with an updated sound and a hint of power. 'Shut Up And Think' is a fast-paced power metal song with '1980s' rebellion storming through it from start to finish. Finally, 'Closer Than Yesterday' is an outstanding ballad that would have been a welcome addition to just about any metal release of the hairspray decade.
In short, Alpha Tiger have proved with this album that they have the potential to be a truly great act. SPV has had a history of growing bands into something great and I think that Alpha Tiger could very easily be the next band on this list. Alpha Tiger understand the fundamental spirit of rock and roll and their sound is ridiculously fun to listen too. As they continue to polish and refine things will only get better. There is a ton of potential here and I'm excited to see how these guys evolve. The world is at their feet, now it's time to see if they can take it.
Tracklist:
1. Intro
2. Lady Liberty
3. Scripted Reality
4. Long Way of Redemption
5. Identity
6. We Won't Take It Anymore
7. Revolution in Progress
8. Closer Than Yesterday
9. Shut Up & Think
10. This World Will Burn