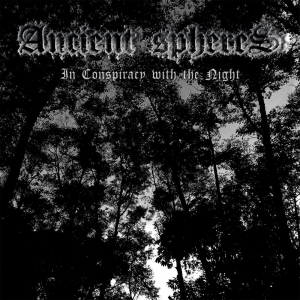 Album Title:
In Conspiracy With The Night
Release Date:
Thursday, August 20, 2015
The connection in between Costa Rica and the Russian label Satanath Records is quite important; cf. releases by bands like Alastor Sanguinary Embryo, Corpse Garden or Inhuman (all of them have been, or soon will be reviewed for one or another release, so keep attentive!). Another symbiosis of both parties, the label and the country, is called In Conspiracy With The Night, the second full length by Cartago-based trio Ancient sphereS (with, by the way, members that are involved with Alastor Sanguinary Embryo as well, amongst several other great acts [*])
[(*) I'd like to invite you to read the review on the latest Paganus Indoctrina-album too, for example – see upload of December 24th 2015, or the one for Alastor Sanguinary Embryo, posted on June 23rd 2015's update]
Anyway, this album was done (recording, production, engineering, mix and mastering) at Adolfo Bejarano's home studio, the band's guitar player (the other members are bass player / vocalist Yeudiel Chacón and drummer Raymondsz), and the CD-edition comes with four tracks from the Under The Spell Of The Spheres EP, which have been released independently too in mean time. The result clocks nearly eighty (!) minutes, including the bonus…
After suite a cool intro (Enchantment Of The Night), Ancient sphereS bring quite energetic, up-tempo Black Metal from the old schooled stamp, being both rhythmic and pounding in performance and sound. And the latter, FYI, is quite impressing too, for sounding like the most expensive low-budget production I've heard in years. Indeed…
There is not really some renewing aspect, and in general the whole is rooted within a certain Nineties-tradition, yet still maintaining a modernised, 21st-century's based attitude, especially when referring to the technically skilled riffs, the mechanical rhythms and the Post-y performance / attitude; and then I didn't even focus on the moody sound production, being quite industrialised at the one hand, yet profoundly old schooled too when focusing on some specific aspects (like the vocals or the bass lines).
This band takes its credits from the Scandinavian trend especially, though the Polish, Belgian, French and Greek scene might come to mind as well. There is a certain universal timelessness, yet still the somewhat forced and violent back-structures remain the main basic which the whole concept is built on. Unfortunately I think the whole experience misses transpiration and variation, despite the convinced evidence of power and craftsmanship. And this is my greatest frustration: I actually cannot dislike this band's performance, for it is actually quite cool; but there is not that much memorable, nothing that really catches or surprises, and that for sure is a pity. The band has its potentials, but it does not totally come to its rights. Disappointing it is for quite a big part…