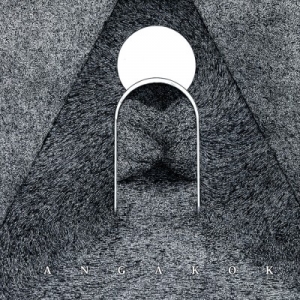 An 'angakok' is an Inuit shaman. Thanks to ivanpedia for this interesting info…
Angakok is also the name of a Belgian trio that started at the beginning of this decade. Their first demo was pretty successful in their local scene (the Liège-area), and the band was able to share the stage with acts like Fuck The Facts, Regarde Les Hommes Tomber, The Great Old Ones, Altar Of Plagues, Deep In Hate, Zatokrev etc., or to perform live on festivals such as Fiesta du Rock or LOUD Festival. Recently they did finish their first studio full length album, which was recorded at the Noise Factory Studio. It gets released by three interesting labels, being Russia's top-notch Satanath Records (thanks again to Aleksey, who did send this album to me), Metallic Media (from Illinois; a close partner of Satanath), and the very small, somewhat hazy Italian label The Smoking Goat Records.
The album contains quite some excerpts from different angles, with extracts from Inuit shaman life stories especially. Since the core of this band's existence is quite relative to the Inuit culture, this isn't such a strange thing… But, then again, what about the sonic nature of this album?
Well, to be honest, my first impression came pretty close to the first Unearthly Trance-album, though nowadays, and indeed I am talking about the 2015-s-era, stuff à la Relapse and relatives aren't quite revealing either anymore.
So, anyway, Angakok brings almost fifty minutes of ultimately harsh and deeply grim, yet still melodic Doom stuff (though there are a couple of nasty hyper-energetic outbursts too) with a profound sludgy execution and a discordant Black-edged sound result, above the most nasty spheres of Post-Hardcore, punkish Acid Stoner and Blackdoomsludgecore-stuff in general, and in addition quite some bizarre samples. Damn yeah, I am not focusing on originality or, well, whatever; I am just convinced that this album, despite its lack of 'originality', has something to offer that stands miles away from the 'usual', from what we might are used to. And in consequence: Belgium has quite an impressive scene when talking about this material especially – but with this band I think our small country will surely overpower their place…