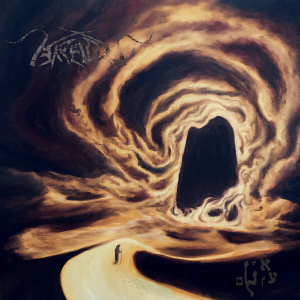 Release Date:
Sunday, September 22, 2019
There are different definitions, or explanations, for the world 'arallu'. But most of the time, it refers to the Mesopotamian / Babylonian / Sumerian mythologies, with 'arallu' being a kind of entity, or a genie, spawn from Enki, master of storm winds and bringer of darkness, then again referring to the underworld itself, where the dead got judged by the deities Nergal and Ereshkigal; a dimension also known as Irkalla, Kur or Ganzir.
But 'arallu' also refers to an Israeli band, which was formed in 1997 at the West Bank (located at the Mesopotamian Empire 666 in Israhell) by Moti 'Butchered' Daniel, who was, at that time, part of the (live) line-up of Melechesh. Throughout more than two decades of existence, this band was limitedly active and productive, with quite some live performances and some hands full of official recordings / releases. Inspired by rites, ceremonies, deities and cults from the ancient Middle Eastern mythology, Arallu had several mini and full-length albums, yet with a permanently changing line-up. However, that does not matter that much, for Butchered as leading spirit behind Arallu is able to give his main project a very specific and typifying approach.
So, at the very end of 2018, Arallu started recording the tracks for the seventh full-length, En Olam, at the Bardo Studio with assistance of mixer / producer Dory 'Grey' Bar Or. Being assisted by members of e.g. Edellom or Lehavoth, Butchered finished this new material in early 2019, and the band was able to sign to Russia's Satanath Records in a partnership (once more) with Exhumed Records. There are 800 jewel case and digipack (including a sticker) copies, which come with a twelve-page booklet (layout by Satanath's Aleksey, cover artwork by Nir Doliner, who also made some designs for e.g. the Runemagick / Chthonic Deity split, Venomous Skeleton, Kever etc.). In the meantime, there is an edition as well on vinyl (limited to 150 copies), and one on tape (released in early Autumn 2020 via Narbentage Produktionen).
Like several bands from that area, in between the Mediterranean and the Arab Sea / Indian Ocean, Arallu too inject their blackened Metal with oriental / Arab / traditional elements. This goes for the use of flutes, chants, as well as quite specific melodies and sounds. Take the opener The Center Of The Unknown, for example, with that typifying semi-acoustic Eastern string intermezzo, that specific intro etc. The introduction of the title track too goes on in that very same vein (and hey, mind those ethnic female vocals!), and so are many moments throughout this album. Besides, the rhythm / drum patterns of, for example, the title song, with that staccato structure, is so characteristic, yet at the same time intriguing and attractive. Another element that refers to a 'local' approach is the use of traditional instruments, such as baglama (some kind of lute) or darbuka (a percussion instrument that might look like a djembe, yet it is not totally related). And see the next paragraph for some thoughts on Achrit Ha'Yamim.
But there is more than just Middle-Eastern things going on, evidently. The black metallic side (sounds like an introduction for a paint commercial) is fast, energetic and powerful. In general, these compositions are melodic in texture, with a speed that varies in between mid-tempo and fast. However, a monument like Vortex Of Emotions, for example, brings nothing but Doom from a mostly abyssal kind. In a piece like this one, the technical skills of the musicians climb up to high levels of craftsmanship, going further than 'just getting loose and banging / thrashing', haha. No, seriously, it is a real pleasure to have such slow composition (and it's absolutely a unique one, even though this is nothing but a personal, and therefor subjective, opinion). Some obscure deceleration to break the intensity of the better part is never a bad idea. Quite the same goes for an acoustic intermezzo like Achrit Ha'Yamim (with spoken words in the band's own Hebrew language; the other lyrics are in English, by the way [with one track based on a fragment of our favourite bible, Necronomicon]), which sort of 'breaks' the harsher totality. But as said, the better part is energetic, with some semi-eruptional outbursts (Prophet's Path is a good example), yet above all that well-balanced equilibrium in between pounding rhythms, thrashy fragments, memorable melodic structures, and many Middle Eastern injections.
The sound quality is very decent. There are no annoying background noises, but especially the mix is top-notch. Every single detail from any instrument involved is so meticulously equipoised. The lead instrumentation (vocals and lead guitars, as well as the folkish instruments) are like the spine of each ballad on En Olam, but without exaggeration. Also the whole rhythm section is clearly audible, from bass and rhythm guitars over the whole drum / percussion section to the backing vocals. Maybe – but now I am nit-picking – the whole might sound too smooth, too precise, too clean, but even though I like a rough production, I think the clean approach on this album fits because of its basics, its concept and its approach.
Grooving and thrashing Middle-Eastern injected Blackened Death Metal for fans of, well, everything in between Melechesh (quite evident), Narjahanam, Al Namrood, Absu, Akhenaten, earlier Orphaned Land or Rudra. Even older Moonspell might come to mind, in a very open-minded setting… …yet written and performed with a very own face for sure…
http://satanath.com/news/item/arallu-2019
http://satanath.com/releases/item/sat266.html
https://satanath.bandcamp.com/album/sat266-arallu-en-olam-2019
https://arallu.bandcamp.com/album/en-olam-physical-digital-album-2019