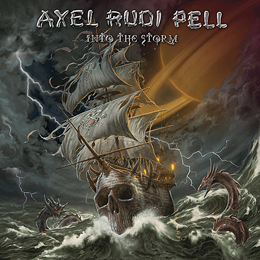 Release Date:
Friday, September 12, 2014
As I mentioned here, 2014 is becoming an excellent year for Heavy Metal. The 53-year old German guitar player Axel Rudi Pell, who has been on the road since 1981, has just released his sixteenth studio album, 'Into the Storm', and the final result is so pleasant that it will be hard for any headbanger not to enjoy it.
The only change in the band from the previous albums, since 1998, is 'Bobby Rondinelli' on drums replacing the beast 'Mike Terrana', but that didn't affect the quality of the music negatively  'Mr. Axel Rudi Pell' is one of those guys that really masters the art of shredding and playing amazing solos without sounding stupid or arrogant, and that also uses his gift to leverage the whole band's potential instead of only showing off himself, making the final result always above average.
Graced by an awesome cover artwork (the best one he has had in a long time, if ever!), 'Into the Storm' contains all the usual ingredients of an ARP cocktail and 'Johnny Gioeli' once more delivers a stellar performance. His latest effort leans a little more towards the hard rock side compared to the last few albums, but you know that you get Pell when you see Pell, nothing more, nothing less. Strongly 'Rainbow / Ritchie Blackmore' influenced guitars, sometimes with a bluesy touch, a solid rhythm section that despite the relative simplicity of a good part of the songs still manages to shine, tasteful keyboards and, as mentioned before, 'Gioeli's' voice that is pretty much perfect for this kind of music.
While the naysayers will claim that Pell has been releasing the same album over and over, there is more to it. Sure, we get a mix of hard and heavy, a ballad or two, a cover version and an epic long song at the end, like with most of his other albums actually, but Pell's ability to write catchy anthems that don't get shallow still has got a lot going for him and the fact that he's had his band around him for a long time now, also contributes to this steadiness, the only difference is that he now has 'Bobby Rondinelli' (coincidentally a former Rainbow member…) on the drums, who makes his presence felt.
'Tower of Lies' is your typical Pell opener, energetic, yet melodic, 'Long Way to Go' puts the focus on the melody, for 'Burning Chains' he speeds things up a little, while 'Touching Heaven' starts out like a ballad, but then turns into a straight Hard Rock track with a good riff. Obviously we also get the obligatory power ballad with 'When Truth Hurts', which is nothing outstanding or new, but reinforces the ongoing quality of Pell's songwriting.
The 'Neil Young' cover 'Hey Hey My My' is an unusual choice, but it fits 'Gioeli's' voice like a glove and he can truly shine on this one. At the end the long title track is, well, long. 'Into the Storm', while showcasing aptly showcasing the abilities of the band and also being very well written, is just lacking the spark of genius that, for example, made 'The Masquerade Ball' such an outstanding track, instead it just comes, is there and goes again without really leaving any lasting effect.
To call Into the Storm 'business as usual' in Pell land would be a valid description, with no fan of the German being disappointed, if the title track would have hit a little more, though, the rating would have gone up a little. I seriously doubt that he will convert a whole lot of new fans with the album, but I don't think that Mr. Pell will worry about that. While some will complain that he is still more or less doing the same thing, he's keeping his integrity and he still is delivering quality material and that's all we really can ask from him at his point of his career, right?