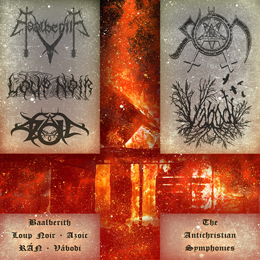 Album Title:
The Antichristian Symphonies
Release Date:
Friday, November 29, 2013
One of the most interesting splits I came across lately is The Antichristian Symphonies, a five-way sampler with both new and old material from five quite differing European acts. The double album gets released as jewel-case in an edition of 500 copies.
The first disc starts with material created and performed by UK-based Baalberith. They once started under the moniker of Black Death until they split up shortly after. The band reformed in 2006, first as Black Death again, but due to different other acts with this very same moniker, as well as caused by the change in style (the origins were more Death Metal-oriented than they are now), they decided to change their band's name into the current one (which isn't the most original one either, is it). The band around frontman Jamie 'Razakel' (whom you might know from Skiddaw, Demoniacal, Ezurate, Razakel Krieg and many more) appears with ten tracks, partly re-recorded and with inclusion of two cover tracks. After an untitled intro (a short but creepy sampled piece), Baalberith bring extremely intense, powerful and overwhelming Black Metal with rather traditional basements yet a fabulous execution of uncompromising and right-in-your-face compositions. Remarkable are the haunting melodic leads, the mechanical rhythm, and the addition of piano, bells and keyboards. Those keyboards do not 'lead', but they are of non-ignorable importance to define this band's sphere and identity. Baalberith's participation not only deals with a splendid quality of song writing and performance. They are able to vary without losing their initial characteristics. This variety goes for the structures and approach (with groove versus power, and tradition versus modernism, and so on), yet also the tempo balances in between mid-tempo and speed-up. And still this act succeeds to maintain its typifying core.
Both cover songs are enormously interesting as well. First comes Suicide Cargoload by Woods Of Ypres, which sounds way heavier than the original. The other cover is one that has been done hundreds of times before by bands from all over the world: Mayhem's classic Freezing Moon. Of course the original version is the best, but from all reinterpretations I know, this might be the most convincing one, I think.
Oh yes, good news: SixSixSix Music will release the Baalberith-full length Apparition Of Skulls in a very near future. Of course I will be that kind, once again, to create a fabulous review on this recording ;-) It's my sardonic pleasure… You're mostly welcome!
The second act on this split is Normandy-based one-man project Loup Noir (means 'black wolf'), formed recently by Alrinack, who is also involved with, for example, Suicidal Madness, Jarnvidr, Sombre Croisade, P.H.T.O. etc. When it comes to Jarnvidr, you can expect the review on Passeur Des Temps in a very near future on your beloved site. There was a first Loup Noir-album in 2011 (L'Âme De La Steppe, released via Mortis Humanae Productions) and a second one called Requiem, from which Loup Noir's contribution on this split is taken. It's a kind of melodic yet highly scarifying and vile form of somewhat primitive (mind the positive meaning of this description; it's a compliment once again!) Black Metal with roughness as red line. Besides, many parts sound pretty bizarre; listen to the eerie epic Errance and you'll understand. A crazy hint, just for unfun: what if Gehenna's earliest effort(s) had been performed by Deathspell Omega?... There you have it!
The second disc opens with material taken from Azoic's debut Gateways, which was self-released in June 2012. What the duo (Benedikt Bjarnason and Ragnar Sverresson; both of them play together in Death Metal combo Beneath, and they are active in several other bands and projects too) brings is a very filthy, grim, sharp-edged and vile form of fast and aggressive Tech-Black. This brain-splattering stuff comes with two superb contradictions: the play of organic material versus a mechanical, somewhat industrialised sound at the one hand, and a classical approach (here it is again, the grimness of the nineties) performed with a deadly post-modernistic execution at the other. Are you still with me? What the Icelandic warriors do might be of the most harsh kind, and still it's so intelligently finalised. And what I do appreciate a lot is the injection of some epic-atmospheric additions. I want them to come with a new record very soon!
Next come RÁN, a trans-European project located in Holland nowadays. RÁN were initially formed in Iceland by Nekron and also includes / included members from The Netherlands and Greece, by the way. Anyway, their contribution is taken from the band's sole studio full length, 2013's self-released Demonstorm-album, with one additional track as bonus, provided in their rehearsing essence. The simplistic and uncompromising epics are fast and rhythmic, little technical and enormously brutal, but unfortunately it sounds way too alike. There is too little variation in between the songs, the tempo is always the same, there are no remarkable outbursts, and the sound is beneath acceptance. Nevertheless the ideas behind the concept have potential, but these have not been executed.
The Antichristian Symphonies end with two instrumental tracks by mysterious Icelandic act Váboði, which are demonstrational songs created in 2012 for this split specifically. Both Woe Bearer and Astronomic Gargantuan Mass stand for epic and melodic, firm and oppressive craftsmanship. It sounds mesmerizing, asphyxiating, but oh so pure and beautiful. The multi-layered compositions (with inclusion of elements from Drone and acoustics) are pretty lengthy, which makes them an effort-worthy experience an sich. And despite the lack of vocals, both compositions sound at least as grim and malignant as the other contributors on this double-album.