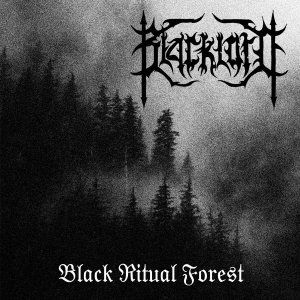 Black Lord are a Mexican project by a guy called Black Lord, who takes care of all instruments, with exception of the drum parts, which get performed by nobody else but Astarot, the guy behind great outfits such as Abysmal Depths, Astarot or Alasthor (several releases by these projects, especially done via Satanath Records, have been published on this site, so do not hesitate to read the reviews). The Black Ritual Forest album is their first recording, lasting for thirty six minutes, and released in an edition of 300 copies only (most of the time, Satanath Records offer the audience 500 copies, but not this time – don't ask me why, but believe me is I say you need to hurry to get your own copy; I've got mine, so there's one less left for you…). The digital edition, by the way, is available too (initially independently uploaded a couple of months before the CD-edition, in case it might interest you).
Anyway, the material has been recorded and mixed at the end of 2014 at Astarot's home studio, and the artwork (including the logo) was done by Mister Black Lord himself. And based on the drawings, I sort of have a certain Nordic flair coming to mind, so let's see and hear…
Black Ritual Forest opens with an untitled intro, quite lengthy, and quite interesting. It's a magic and majestic but also ominous and suffocative symphony with an almost sacral atmosphere, including samples (howling wolves, crying crows and more creatures of the night). Yet as from Spiritual War, the whole attitude turns nastier, grimmer, more evil and uncompromising. Black Lord's approach is of the primal kind, turning back to the roots, and then I am talking about both the Second as well as the First Wave. That track I just mentioned, for example, Spiritual War, sounds like a hybrid of early Bathory at the one hand, and Gorgoroth or Carpathian Forest, if you want to, at the other. It's based on the primitivism of the old styled trend(s), paying tribute to the origins. And it's within this trend that Black Ritual Forest goes on, being structurally based on elements from the Scandinavian Glory especially.
The main speed is mid-tempo oriented, with both slow and fast passages. Yet in any case, no matter if the material blasts or dooms, it maintains that grim, evil atmosphere.
The production too fits perfectly to the specific style, for being raw, unpolished and edgy. The sound of the guitars, for example, is of the chainsaw-kind, while the few solos totally remind me to those of the first Bathory albums, being both delicate and thin (which must not be taken as negative right here, on the contrary!). Yet I have to admit that the drum patterns sound way too mechanical from time to time (sometimes I do wonder if it's a drum computer that's used on this album) – but I think that might be the sole negative remark I have to give…
Finally, the outro intelligently entitled Outro: like the intro quite asphyxiating and ominous, also based on synths and wolves / crows, yet with a quite fine guitar riff towards the end… Splendid thing to end this album with…