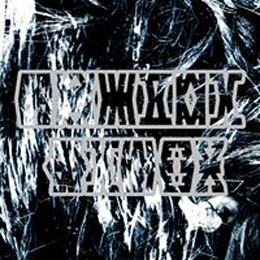 Brutally Deceased hail from Czech Republic and they debuted in 2010 with Dead Lovers' Guide, released via Lavadome Productions. In 2013 they returned with the split-LP Glory Days, Festering Years, in co-operation with Interment. This split was the band's debut for Doomentia, by the way. Once again in collaboration with Doomentia, also from the Czech Republic, Brutally Deceased release their next opus, which was recorded at the Davos Studio in April 2014.
Black Infernal Vortex, having a total running time of just over half an hour, goes on in the vein of the former material. This means so-called Swedeath stuff, i.e. Old School-styled Death Metal with a very Swedish approach in performance and sound. The band's moniker, as a matter of fact, says it all, for it is based on a track by Grave, original on the (legendary? Cult?) demo tape Anatomia Corporis Humani from 1989, and re-recorded for their second full length, 1992's You'll Never See.
Sometimes it is truly remarkable how bands that are not from Sweden succeed to create something that sounds as a copy of Sweden's glorious early nineties. Brutally Deceased try to, and they succeed as well. Black Infernal Vortex brings the very same ingredients, i.e. the characterising sound (listen to those typifying bass lines and guitars), the straight-forward approach, the technical craftsmanship, and even the very same atmosphere (lyrics, production). And there are not that much elements that does bother me, except for two: (1) the total lack of something 'own' translated in nothing that stands out. The song writing at the one hand, and the performance quality at the other, are all right, but nothing more than that either. Besides, (2) there is too little variety in between the songs, and they don't last for long in my (over-active yet brilliant) brain. But in any case I can conclude that each fan of the Swedish scene in general, and bands like Grave and Dismember more specifically, will like this album.