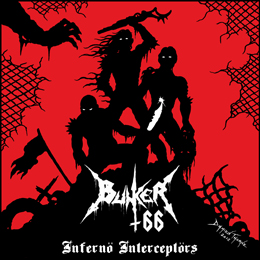 Release Date:
Saturday, February 16, 2013
Bunker 66 hail from Messina, an historical city on Sicily, Italy. The band debuted in 2009 with the grandiose EP Out Of The Bunker, originally self-released in a limited edition, and re-released later on both CD and vinyl. Infernö Interceptörs is the second studio release (there was a live-EP in mean time, which was brought out as part of Fenriz' Band Of The Week vinyl series) and this eight-tracker is an enormous step forward in comparison to the former record. Still there is a clear influence of many protagonists of the Old School scene, yet more than before, Bunker 66 pay tribute to their heroes by mixing those early influences with own ideas and a unique creativity.
The eight tracks (twenty eight minutes) bring a mixture of different bands from the Extreme Metal scene, the Old Skool-one, of course, with roots within Speed, Thrash, Death, Black and Heavy Metal. There are hints of Italian bands à la Bulldozer or Schizo, yet one might hear details from acts like Aura Noir, (later) Darkthrone, Hellhammer / Celtic Frost, Amebix, Axegrinder, Carnivore, Venom, Tank, Motörhead, Discharge, or more recent bands like Children Of Technology or Dishammer as well.
The band indeed plays some kind of Thrash / Black Metal, yet not the evident case, yet rather the punky variant. A couple of times it does really sound like Hellhammer, then again it's rather Punk-injected, or thrashing, or rocking or whatever, yet in every case the tracks on Infernö Interceptörs do sound basically 'true to the core'.
It might be melancholy, but this material does pay tribute to the essential roots, and for performing with craftsmanship and persuasion, this album is Kult après-la-lettre! Essential for Old Schoolers