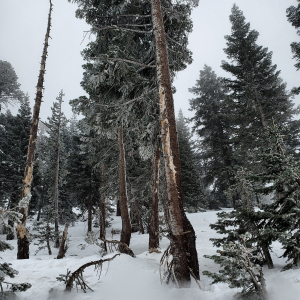 Release Date:
Saturday, November 26, 2022
I know that Mister (bleak) did release some new material in the meantime, but I just feel to write down my thoughts on this digital EP, because… Well, does it matter? I just wanna do so…
I will keep it short. Hollow is a one-piece EP, clocking exactly fifteen minutes. It was created in 2022 and released that very same year by Poland's finest Gates Of Hypnos. Both the label and the composer behind Carrion share a collaborative partnership for a long time; (bleak) has some other solo-outfits signed to this label as well, and there was a split released in Summer 2022 that gathered both Carrion and Sado Rituals, with the latter being an outfit by the label's mastermind.
Quite intensively veiled in a mesmerizing, hypnagogic sense, Hollow canalizes a monotonous and droning rumble towards a bleak (got it?) ambience of seductive Noise. It's quite static in essence, with subtle elements from field-recorded sounds on the background. Rattling sways and thundering vibrations create both a visionary and a gloomy dreamworld, including an Arctic-cold atmosphere and an apocalyptic suggestion of nihilism and isolationism.
All this gets executed within a serrated sound, pungent and dense, yet still revealing and elevating too. Despite the lack of 'variation', that production and the multi-layered implementation create a sensation of requirement, even desire, for more.
A final word about the artwork: wonderful. It seems to be courtesy of Manfish Inc. and gets well with the wintery concept of Hollow. The snowy landscape perfectly translates the aural content into visual aesthetic. Cool (literally) and well-thought…
https://gatesofhypnos.bandcamp.com/album/hollow
https://www.concreteweb.be/reviews/carrion-sado-rituals