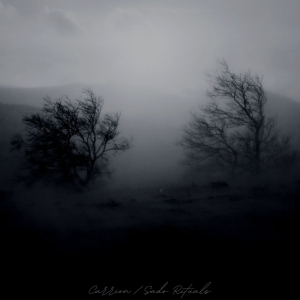 I know that both projects did release new material in the meantime, but then again: so what?!
This split-release is way to interesting not to deserve my everlasting dedication and devoted attention, for it deals with two sweet one-man-projects that did surprise me more than once. I'll give a brief introduction on both of them immediately, but first a kind word on the label: Gates Of Hypnos from Polish soil. It is run by Przemysław Grochowski and it might be one of the most unique labels within the international Noise / Experimental / …-scene with so many excellent (freely downloadable) releases.
Carrion is one of the outfits by a human being from the U.K., here active as (bleak). The very same guy is behind several other projects too, such as Gold (amongst others), and he runs some labels, amongst which Positive Militia or Abstract Trauma Recordings. Why do I mention Gold exclusively? Well, Gold did a split before with Sado Rituals (link for the review and the digital album: see below), which is kind of interesting, isn't it, for this split includes that very same Polish act?!
That other project involved in this split is Sado Rituals, created by the founder / owner of the Gates Of Hypnos label; here known as Sadox. With this act, he is extremely productive, with almost 665 releases going on (on top of his label)! This sympathetic guy ('sympathetic', so is the person behind Carrion, believe me) is part of the Crepuscular Rituals project too, by the way (which also includes Ken Jamison of Crepuscular Entity-fame and his (Harsh) Noise label Basement Corner Emissions).
So, both guys / projects created one lullaby for this untitled split, both of them clocking exactly twenty minutes. It comes with very sober yet beautiful cover artwork, which has something autumnal, depressive and, well, why not, bleak indeed. And that visual artwork does fit to the description on the label's Bandcamp page: 'field recorded blizzard winds and grim artificial wastelands' (at least that natural aspect, not the dystopian ruins or wildernesses).
The split starts with the track Snowpiercer by Carrion. Like an overwhelming avalanche, this piece sounds like a mixture of static Harsh Noise, accompanied by Arctic-cold storm-winds and nicely-crackling elements (besides few alienated bleeps???). The whole of the time, it rumbles and it squeezes, floating in swings of tormented and industrialised soundwaves, up and down, yet never conciliating, never surrendering. Imagine being in a huge snowstorm, at the middle of a vast, inhospitable ice-shelf, with no sight, no shelter, no sound but the freezing ice-particles overpowering you with a tornado-like brutality… This is the soundtrack to this experience… Ambient Noise Wall of void-like annihilation, a tribute to the inexorable blizzard…
The second piece is called Wastelandweller, created by Sado Rituals. A deeply-reverberating wave of magnetizing hypnosia, static yet exalted at the same time, in combination with dry, somewhat crispy crepitation, paves the basement for another twenty minutes of dystopic, post-nuclear nothingness. You feel the toxic winds floating by above the barren wilderness, penetrating every single body's orifice, consuming your body from inside, and corroding it from the outside. Despite a certain nihilistic rudiment, Wastelandweller, just like Snowpiercer, tells a story – a crude unharmony for sure – which offers much more than it sounds like at first.
Each listen reveals new details and elements, and it draws you deeper and deeper into the negative, apocalyptic message; or is it the beauty of destruction and despair…
https://gatesofhypnos.bandcamp.com/album/carrion-sado-rituals
https://sadorituals.bandcamp.com/album/carrion-sado-rituals
https://www.concreteweb.be/reviews/gold-sado-rituals