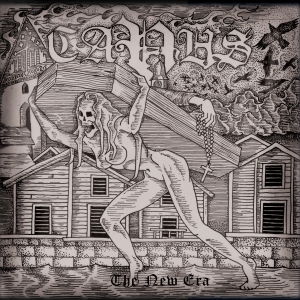 Release Date:
Wednesday, April 11, 2018
Aaargh, this has been such a long time… Finally, after a hiatus of more than seven, almost eight years, Suomi-based horde Cavus finally returns with their second full length album, after the untitled EP from 2009 and their full-length debut Fester And Putrefy in Autumn 2010 (Listenable Records) – which was, by the way, followed by a European tour with no one else but the sweeties of Gorgoroth. Their newest epos, The New Era, was written and recorded over a period of several years, as from 2015, and this during several darkest occasions in different studios. The band did take care of the final mix and mastering at the COH Studio (courtesy of band leader Ben 'B.P.' Pakarinen, who's known as well for acts like Antagonist Zero, Devilish Impressions or Coprolith). The New Era gets released in an edition of 500 copies (jewel case compact disc) via Russia's Satanath Records in partnership with German label Final Gate Records. The unique and original, little explicit cover-artwork from this so-called vinyl-styled CD (with four-page booklet) was done by guitarist Jouni 'J.K.' Korhonen.
The album opens with the title track, which is quite a cool introduction. It is based on different strings (cello / violin / viola), distorted in sound (excellent, truly great) and assisted by some percussions. The final part includes ultra-heavy guitars too, breathing Doom, and with Doom I do mean DOOM! Unusual it is, but is courtesy of an unusual formation for sure, so it does fit!
But then these lovely Finnish friends show their teeth – and there's still slices of meat and drops of blood to see… Cavus perform Second Wave influenced beauty, yet from its most vile, ugly and f*cked-up side. It's harsh, it's loud, it's fast and it's f*cking Rock'n'Roll! The elegies on this album are fast, yet with an important variety in speed: from mid-tempo over fast to blasting, and the good thing is that even within (almost) each track, this variation appears quite organically. But it is a great thing too to notice that the band decelerates more than once too. In a piece like Morphine, for example, Cavus touch the slow-paced yet ultra-overpowering heaviness reminiscent of old Hellhammer and the likes. Tasteful! This collection of feral, brutal, sordid and dingy epics contains that uncompromising attitude à la old Mayhem, Impaled Nazarene, Carpathian Forest or Gorgoroth, spiced with a nonchalant Punk attitude. The riffs thunder, the drums thunder, the basses thunder, and the voices spit venom and sulphur. The rhythmic tracks have that grooving melody-basement, strengthening the obscure and oppressive atmosphere. Another interesting point is the variation in song writing, for some pieces are quite epic in essence, other rather uncompromisingly barbarous, then again abyssal dark and suppressing. …yet always uncompromising and intolerant.
A word about the sound quality: it sucks! Haha, no, seriously, the production and mix are beneath average, to my opinion – and you know: I adore a rough, unpolished sound under normal circumstances. In this case however, I think the whole is, unfortunately, under-produced. The drums often sound as if they have been recorded in an empty container, and the bass lines must have been mixed more towards the foreground. The result sounds like a mish-mash, a noisy garage-recorded rehearsal, and that's a pity, for it devaluates the fantastic songs. But hey, that is just one opinion, and as trying to mention before, the song-writing and performance are top-notch. So don't let the production be an insurmountable threshold.