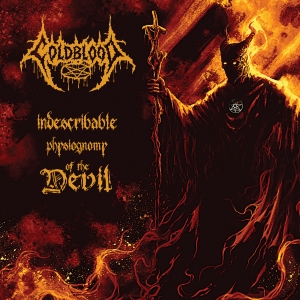 Album Title:
Indescribable Physiognomy Of The Devil
I knew an act from Brazil called ColdBlood, being active during the first half of the Nineties. And because this release (which was send to me, the kind way, by my dear colleague Aleksey K. from e.g. the Abigorum project and Satanath Records), did deal with a Rio De Janeiro based act with the very same name, I was kind of wondering: is this the very same band? So, here I seemed to suffer from a period of total amnesia. Apparently, indeed it is the very same ColdBlood, but… they did quite some new things in the meantime too. Deep investigation taught me that these Brazilian sweethearts did record and release two full lengths, some EP's / singles, and a couple of splits (amongst which a compilation of older material in collaboration with Luvart, whom I'm going to write a chronicle in the near future for their latest release, done via the Brazilian division of Drakkar Productions – but that's nothing but additional information). And apparently I did write a review for the last album, Chronology Of Satanic Events (posted on November 21st 2014). So, have I been on another planet for a while? Is there a mental hiatus within my existence? Okay, I am quite severe to myself, and I understand that I cannot follow everything – yet still…
But to make it all up, I will focus -with attention and concentration- on the latest full length of this quartet (still with original members Vitor and Markus). The easy-named third album Indescribable Physiognomy Of The Devil (damn, what an idea to call your new recording like this) was initially released via the band's main label Distro Rock Records in April 2016. However, the unholy marriage in between Satanath Records and Metallic Media (the latter released that album I did review as well, for example) once again proves to be a great one, for they are re-releasing the stuff on a worldwide scale. The material was written by drummer Markus Couttinho and vocalist / guitarist Diego Mercadante (who takes care of the lyrical side as well, by the way), and everything was recorded in their home town Rio De Janeiro, at the Estúdio AM in June and July 2015 with producer Fernando Campos (think: Unearthly, Tellus Terror, Empürios etc.). Both other members involved with this recording, for your information, are bassist Vitor Esteves (who left just after the recording sessions???) and lead guitar player Artur Círio, who was in e.g. Statik Majik and Vulgar before.
Indescribable Physiognomy Of The Devil is a ten-track album, but there are three instrumental bonus tracks included too. The whole album, including those extra pieces, lasts for fifty-two minutes, and comes with a 12-page booklet, and this in an edition of 500 copies (the original release via Distro Rock Records was less 'limited'). And as from the very first seconds of the album ('God is dead!', you'll notice soon…) you will understand that ColdBlood are not about to take prisoners – death to you all, that's their message!
The material on Indescribable Physiognomy Of The Devil is of the purest repulsive and sickening American Old School-styled kind (kind? Not kind at all!), with all ingredients that characterise the scene for almost three decades. Diego's grunts, for example, are so deep, so brutal, so hateful, and for sure they belong to the better vocals within the scene. Fine, within that vein, is the addition of some higher-pitched screams too, the Black / Thrash-way. I just think it's a shame that you do not always clearly understand the poetry that floats out of this guy's throat. I had to take the lyrics to see what Diego is 'singing' about. Okay, everyone knows that love and peace aren't exactly subjects to expect. But still. FYI: demonism, blasphemy and diabolism, but I can imagine this information is otiose…
Composition-wise, there is that great balance in between melody and rhythmic heaviness. As it needs to be, the drums are of the devastating kind. The double bass drums bulldozer (it's a verb as from now on: 'to bulldozer'…) whole of the time, with several monumental outbursts, especially within the faster, semi-blasting moments. But when playing mid-tempo, those drums decelerate as well, without losing the initial brutality. The riffing too comes with a timeless execution, being supportive to the melody from time to time, then again strengthening the colossal violence behind the concept. And of course, there is no lack of fierce and fiery guitar soloing either. Short guitar solo attacks do rape the listener's eardrums, but that to isn't a coincidence.
Seriously, this is an inevitable soundtrack to pay tribute to the most ferocious scenes from both North and South America anno late Eighties / Nineties / 2000's. Everything that reeks of Abhorrence, Krisiun or Rebaelliun, to stay within these guys' home country, or in the vein of Incantation, Morbid Angel or Deicide, has been reinterpreted in one way or another. Okay, it means that this album lacks of originality, but I don't give a f*** about the urge to be renewing. This is just decently performed Death Metal as it might typify the essence of the Old School.
A word about the sound: massive! No further comment…
I won't dwell on the three bonus tracks either. It's three times a composition taken from the album, just without the vocals, so the meaning behind it is strange to me. They're even not a rehearsal version, taken from a pre-recording or demonstrational session, for example. Great material indeed, but unnecessary, I think.