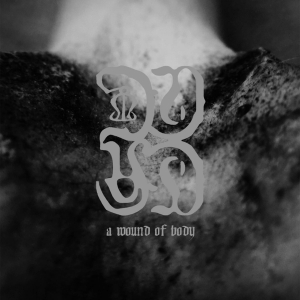 Release Date:
Friday, September 7, 2018
I must say that I do not know that much bands, or projects, if you want to, hailing from the state of Alaska. But one of my faves for sure is this one: Common Eider, King Eider. This multi-artistic collective has created several highly interesting recordings in the past – with gratitude to e.g. Cold Spring Records for the release of Extinction (Spring 2016) (http://www.concreteweb.be/reviews/common-eider-king-eider) or Shrines For The Unwanted, Respite For The Cast Aside (very early Autumn 2017) (I can't find back my review for this one anymore???). The band has recently finished a conceptual diptych recently, which consists of the albums A Wound Of Body and A Wound Of Earth. The latter will be released at the end of August via Consouling Sounds, the first one has been released via Cyclic Law. It's this one this review will deal with. It has been effectuated in a partnership with Sentient Ruin Laboratories, who have been releasing material for this American act before.
A Wound Of Body is available via the band's or the labels' Bandcamp pages (for digital format), as well as on compact disc (500 copies in gatefold A5-sleeve), on tape and on vinyl (300 copies on black vinyl with inner sleeve). The result lasts for forty-three minutes (the LP-edition is little shorter in playing time) and consists of five titles.
The sonic description of physical wounds starts with Remembrance A Threnody, showing the magnificent capacities of the members to create aural obscurity so easily. The composition starts quite minimal in approach. Cold, minimalistically composed layers of sound create a vision of emptiness, nothingness, desolation and un-physical-ness (indeed it does, believe me). However, after five minutes and something, things turn nastier. Bleak and claustrophobic waves and noises join in, turning Remembrance A Threnody, step by step, yet suddenly, into a soundtrack of cavernous haunting discomfort. Then again, after a while, everything seems to fade away, once again, into the vastness of the infinite cosmos, like an elegy of ruined lives. Within the very same vein, this album continues. Sinew Stretched Over Crumbling Bones (what a title…) offers us dry, morbid, grim Drone Music with a ritual and hypnotic nature. Quite nihilistic and repetitive, this minimalism is, at the same time, so fat and rich, with many things to discover underneath the surface. This composition slowly, yet convinced, grows and builds up, covered in subtle details and hidden yet self-revealing aspects. With We Sing Over These Bones So That They May Rise Up And Run Away Into The Night, we enter a dark chapel, deep underground, to meet our inner self, our darkest thoughts and biggest fears. It's more sacral, with those choir-alike chants, and more mesmerizing with these doomed strings (viola / cello / violin?). But here too, nothing is exactly what it seems in the first place. Injections of industrialised soundscapes and ambient soundwaves constantly interact, defining each ceremony with an own identity. Helene is more horrific of nature, even though the minimal approach reduces any terrifying noise-attach towards subtlety. It's dense and oppressing, heavy and thick, but this growing soundwave characterises a monumental craft. In a comparable way, River Of Blood is a confrontation with the Inner Eye. Almost ritualistic, this eldritch soundwave both fascinates and frightens, both attracts and repels. Evocative voices, haunting strings and hypnotic synths create an atmosphere so bleak, and a sound so spellbinding.
A Wound Of Body has become a gloomy, bleak and obscure collection of horrifying Dark Drone Ambient that shows a new approach. Common Eider, King Eider sort of evolve towards a Lovecraftian and cinematic act, focusing on negativity, mental mist and pain, both physical and psychic. This new step proves the band's ability to defy itself, to continue, to discover and to explore. They succeeded to convince, once more, and I am truly thrilled to plunge into the second part of this concept, A Wound Of Earth. Evidently, there will be a review on that one too soon.