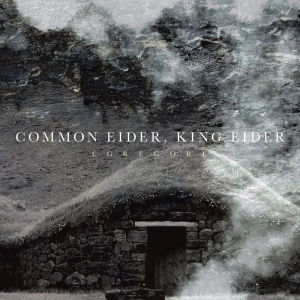 Égrégore gets released as a Common Eider, King Eider release, but a little nuance is appropriate. Actually, this album was created by Common Eider, King Eider member Rob 'B.S.s.' Fisk (also active in Noise Rock act 7 Year Rabbit Cycle and formerly member of Psychedelic Folk Rock formation Badgerlore or Indie Rock band Nitre Pit / Deerhoof) – I do not think the other members are involved – and Yann Arexis, whom you might know from projects like Stille Volk, La Breiche, Sus Scrofa, Ihan, Cober Ord or Coume Ouarnède. So, one cannot exactly call it an essential Common Eider, King Eider album. But what does it matter?
Other collaborators are, by the way, all of the spirits of the Pyrenees present during those Dark Moon Rituals, wishing to speak.
The duo did record this material live during the darkening New Moon in May 2018, born in secrecy, in darkness, in ritual, when both musicians were visiting the vast arboreal mountains of the Pyrenees, the natural border in between France and Spain. In its humbleness, and while summoning the faded entities, the project was born to offer voice to the stones and waters and all the spirits of that land. The result is a four-track creation, lasting for more than fifty minutes, and mastered once more by no one else but Martin Bowes at his famous The Cage studio. It got released via UK's finest Cold Spring Records on compact disc (matte-laminate gatefold eco-pack) with interesting visual artwork by Kevin Gan Yuen of Sutekh Hexen fame.
…and this stuff is dark, haunting, eerie, massively overwhelming and asphyxiating… Égrégore is based upon a sonic symbiosis of eldritch elements: evil voices, samples from natural sources, gloomy sounds, percussion, ritualistic noises – magic, mysterious, spiritual, invocative and tribal. These obscure soundwaves are catching, bewitching, captivating and scarifying. Long-stretched dronescapes guide you into the impenetrable darkness, where evil spells and forgotten rituals still live forth in the stones, the trees, the water, the mountains, the air. Long lost spirits dwell around, poisoning the listener's mind.
…and then, at the very same time, in an almost masochistic / self-mutilative manner, these hymns are oh so intriguing, addictively arousing. The combination of electronics at the one hand (many layers of synth manipulations carry the basement for these four compositions), and natural field recordings at the other (branches, voices, rocks, antlers), sounds truly enthralling. It makes the listener craving for more, as if it is the soundtrack for an obscure (horror) movie. A surplus is the subtlety, the fine-tuned way how the duo knew to create a sonic story that gets translated as an abyssal visual experience in the listener's mind. If you delve deep into this aural experience, you can see those ancient spirits floating by, you can feel them breathing in your neck, you can almost touch their unphysical presence.
There are quite some great releases that are, more or less, comparable. Drawing influences from magic, ancient, ritual, mystic or spiritual sources, defined through darkened sonic ambience or transcendental drones, this album seeks inspiration in comparable themes. Yet then again, Égrégore goes little further, for the intensive use of so many vocal elements is unheard before, I think. It lifts the result up to a higher dimension, deeper into unknown worlds of untrodden dimensions behind the portals of our physical existence. This material defines a next step, a progressed approach of what haunting Aural Art can be. Therefor too I cannot but recommend this to every living soul that seeks oppressing and suffocative yet well-thought (and well-balanced) in-depth sonic pleasure.
https://coldspring.bandcamp.com/album/egregore-csr271cd
https://www.concreteweb.be/reviews/common-eider-king-eider
https://www.concreteweb.be/reviews/common-eider-king-eider-0
https://www.concreteweb.be/reviews/common-eider-king-eider-0