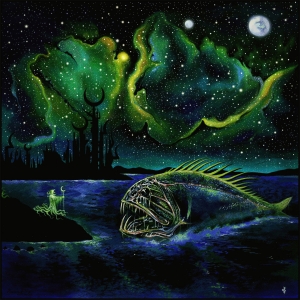 I am not going to write a full introduction on Cryostasium this time, for you can find all info you want in one of the reviews I did for this American project in the past. Just enter the band-name in the tab 'Search' to find out more about this frenzy solo-outfit of one Cody Maillet…
And hey, I will not digress too intensively about this new recording either. The reason: same fabulous shit! Ha!
No, seriously (for a while), Cody wrote and recorded (at the K2 Studio in Waltham, Massachusetts, very close to Boston in the North-East of the Divided States of America) some new tracks, totally created by himself (vocals, guitars, basses, drum programming, effects, and even some of the visual art), only assisted by the beautiful Meiko (a vocaloid 'guest singer', used before as well), haha… Actually, this stuff was already recorded during Spring 2017, and released in Autumn that very same year, so this is an older release, but whatever. It is never too late to offer some additional (and highly professional) support / promotion. Two more things before coming back to the sonic side. The digital edition is available on the project's Bandcamp-page, and the physical version, a compact disc in jewel-case with a four-page booklet, saw the light in a partnership, once more, in between Metropolitan State Productions, home to many releases done by Cody and / or his brother Thor, and GrimmDistribution, a side-label of Satanath Records, which released some Cryostasium material before (among which, and that's an important detail, a split in between Cryostasium and Abigorum, the latter being an outfit by label owner Aleksey). Second thing I wanted to mention is the astonishing cover artwork, courtesy of the young yet extremely talented Romanian (female) artist Luciana Nedelea. This must be one of the most intriguing cover paintings ever.
So, from aural point of view listen, Starbound once again stands for a weird, grim and filthy form of Black Metal. The stuff is extremely raw and lo-fi, with a sound quality that rasps, screeches and scrapes. Actually, this kind of material is highly melodious for sure, yet with a weird, psychedelic twist. More bizarre elements are, for example, the use of (church) bells (in Melancholera or in the title song, for example), the use of the vocaloid voice (not new, for several former recordings came up with that bewitching and gloomy voice), some astral synth-like effects (cf. Magnetic), and the industrialised, even claustrophobic production. Few vocals are the raspy, wretched screams, courtesy of Cody himself, and these ones surely are grim, tortured and malignant. A surplus is the variation in structure and in speed; the latter balances in between doomier excerpts (the better part), over up-tempo pieces, to a couple of nearly-pyroclastic eruptions.
So, in conclusion: these twenty-six minutes are very reminiscent of the project's known core business – nothing more, and surely nothing less. I can imagine the 'love-it-or-hate-it' thing going on, and then I am referring to both the sound quality and the sonic side of the story. The digital voice of Meiko, the low-fidelity production and anti-commercial sound, the minimalistic and simplistic song structures, the mind-twisting totality; it might scare you off for sure. But hey, the geniality behind (beyond?) these lullabies is of divine intelligence, so do give it a try if you're triggered…