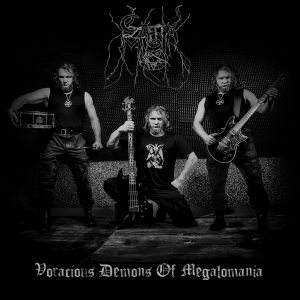 Album Title:
Voracious Demons Of Megalomania
Release Date:
Thursday, January 30, 2020
About one year and some months ago, I had the pleasure to enjoy the official debut recording by Polish one-man army Czarna Magia. That EP, called Inwokacja Pierwotnej Mocy, was released via The End Of Time Records, a nice label from Polish soil that never disappointed me. Anyway, now, one year later, Balrog, who's Czarna Magia's remaining founding member (the project was initially formed by Balrog and his Serpent Seed / Skald Of Morgoth colleague Jakub), informed me about a new recording, with the ingenious title Voracious Demons Of Megalomania. That title refers to Balrog himself, who's like a wizard residing in his dark tower, having control over everything himself. It refers to him, as composer / musician, creating something that he, and no one else, can influence, can manipulate. It's dark magic canalized into sounds and noises totally courtesy of his own spirit, done, as he stated, in 'madness and solitude. Garden of delight. Never-ending pleasure.' Balrog did everything himself: song writing, lyrics, recording, production and mix. Even the front cover is him, thrice, in his home studio. They are three voracious demons of Total Megalomania, expressed and conceived as a ritual cleansing and spiritual therapy, subdue to the sinister forces of archetypical manifestations of Primal Chaos, obsessed with control, as minister of propaganda. This said…
As said, the whole story is Balrog's, except for one thing: the ability to experience the material on Voracious Demons Of Megalomania. That pleasure is all mine (and it might be yours too)! No, seriously, even the initial release has been done independently via this project's Bandcamp page (link below). But just like it was the case with the debut recording Inwokacja Pierwotnej Mocy, The End Of Time Records will take care of a physical edition too (on compact disc).
[and as I was speaking, finishing my last thoughts on this album, I did find the physical copy in my mailbox. Thanks you, Balrog! So, this means that the compact disc edition, which comes in a series of five-hundred hand-numbered copies, has been effectuated in the meantime – jewel case version, with eight-page black-and-white booklet, including the English and Polish lyrics]
Voracious Demons Of Megalomania consists of eight compositions, clocking three quarters of an hour. It stands for melodious and rhythmic, primal yet well-crafted Black Metal, with a lot of variation in structure and speed. Actually, the better part is not exactly that fast. It rather dwells in spheres of mid-to up-tempo, with a couple of faster outbursts at the one hand, and some doomier excerpts at the other hand. Especially the ultimately cool drum patterns influence the idea of increasing energy, which is nothing but a pleasure to enjoy. Worth mentioning is the natural sound caused by the acoustic percussion, which is remarkably organic and even grotesque (in a mostly positive definition).
The basic structures pay tribute to the days of Glory, the Second Wave with, especially, that North (and East) European sound and performance. I would not blame anyone if he / she did refer to acts like Taake, Darkthrone, Mock, Burzum or (early) Satyricon, to name just a few. This somewhat primitive approach comes with elements from both epic and thrashing sources, with a very conscious attitude to remain 'Underground'. This goes for the sound too, but I'll come to this later.
The whole adventure lacks of gimmicks, trendy nonsense or poppy injections (here too, I would refer to the sound quality in a next paragraph), yet it does focus on the essence of Archaic Black Metal. Voracious Demons Of Megalomania is veiled in a package of impenetrable poisonous mist, a soundtrack for blasphemy and misanthropy, for apocalypse and chaos, for death, ritualism, occultism and demonism. Okay, the lead guitars and the vocals are like the spine of the whole aural adventure, but this goes further than some one-dimensional record, for all details define the final result.
…which easily brings me to the production – as said, totally taken care of by the mastermind, the wizard, behind this sonic expression of Dark Magic. Balrog created a fine balance in between all elements. Just like the former release, Voracious Demons Of Megalomania focuses on the complete package. Maybe the vocals and lead riffs might somehow seem like the spine, as said, but bass guitars, drums / percussion (naturally sounding because of the acoustic performance), and rhythm guitars are at least as important to characterize the whole concept of the album. Seriously, the mix has been done with eye for detail. But I think that the production has improved compared to the former album. The Inwokacja Pierwotnej Mocy EP did have some unwanted 'noise' at the background (but hey, that is not a reason to dislike that recording), but the production on this full length is so much better. No, please, if you hope for a surgically clean sound, you will be disappointed. This album has no clinically modernized production at all. But that is the best thing; such primal, archaic stuff needs some rawness, some rough-edged impurity, and that is another excellent element that characterizes this album.
https://czarnamagia.bandcamp.com/album/voracious-demons-of-megalomania
https://www.concreteweb.be/reviews/czarna-magia