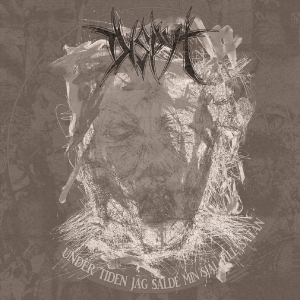 Album Title:
Under Tiden Jag Sålde Min Själ Till Satan
Release Date:
Friday, December 11, 2020
The Finland based act Dispyt did not disappoint at all with their debut Den Ständigt Närvarande Ångesten, originally independently released in 2017 and re-released (+ re-mastered) in 2019 via Belgium's Immortal Frost Productions. It is that very same label that now takes care of the releasing duties for the sophomore full-length album, Under Tiden Jag Sålde Min Själ Till Satan. Just for your information: in the meantime, the band recorded and released some other yet quite limited material too, like a 7"EP and two splits.
Once again, drums and (backing) vocals were performed by founding member Owe Inborr, who also finished the studio work (mix and mastering at his Wolfthrone Studio, home to several other (mostly) interesting combos, amongst which several who are somehow related to Dispyt's current label). You might know this guy as well from his involvement with Gangrened and Ondfødt, by the way. Matthias Lillmåns (of Finntroll / Festerday / Magenta Harvest-fame; and recently he did join the reborn …And Oceans crew as well) once again performed the main vocals and basses, and guitars + vocals were recorded by Ondfødt colleague Juuso Englund.
The new thirteen-track album is available via the known digital sources, as well as on compact disc (as said, via Immortal Frost Productions). There are 1,000 copies, the so-called jewel-case, with inclusion of an eight-page booklet. There will also be a cassette edition – a pink one (!) – via Red Truth Productions, for your information. Under Tiden Jag Sålde Min Själ Till Satan clock half an hour, so once again it deals with short compositions. But you can surely imagine that it will deal with (mainly) fast blasts and rabid sonic assaults, once more.
Well, this time you will experience quite a logic successor of Den Ständigt Närvarande Ångesten, for Under Tiden Jag Sålde Min Själ Till Satan too brings a very powerful and overwhelming, grimy and sleazy form of Hardcore Punk and Metallic Crust. But then again, the band went farther this time. Okay, the better part is still a collection of fast sonic assaults, consisting of uncompromising riffs, punky double-bass drum-beats (not recorded in a professional studio, by the way, yet in some abandoned house), raw bass lines and loud yells in different timbres. The variation of voices is well-balanced, representing the open-minded and wide-viewed approach of this Finnish act's professionalism. As said, most of the time the tempo is fast, and that means everything in between up-tempo over energetically energetic (why not?) up to blasting and eruptional. But once in a while, certain fragments slow down. Yet even those chapters don't give in on power, energetically energetic energy (oops, I did it again) or aggression. …at all. A piece like Verkligheten Kallar, for example, with that cool, dreamlike solo, uses that slower tempo as a means to create energ…, eh (sorry, almost again), so, to create a monumental and ultra-heavy atmosphere, and the opening sequence of its follow-up, Ödmjukhetens Hand, goes even further. The guitar sound – but that goes for the whole album, as a matter of fact – is devastating, reminding of the Swedish proto-scene from thirty years ago. This goes way further than Crust / Punk for sure.
And that brings me to one of the other elements on this album that are slightly distinctive from the past: that subtle reference, more than before, to an archaic Swedish (Death) Metal scene. Indeed, there are more interfaces this time with 'Metal' on itself, and of course I am rather talking about the old-styled Death and Black Metal scenes. Yet above all, evidently, the main focus lies on that remorseless, D-Beat Crust machinery. That sound à la Nihilist and the likes is not new, yet much more prominent and remarkable this time.
An increased addition of melodic elements too is a great evolution. Melodious riffs, melodious leads, melodious solos; once in a while the injection of that melodic touch into the sludgy and grooving brutality has a surprisingly satisfying effect.
Actually, it's like an anti-vegetarian meal made of bloody or rotten ingredients: start with a layer of Discharge, spiced with a crumble of earlier Hellhammer and Venom. Add a sniff of Entombed and a portion of Darkthrone-love-The Exploited, sprinkle with some Sore Throat and a hint of Extreme Noise Terror, and finish it with a huge dose of some Motörhead-meet-Brutal Truth mixture. Bon appétit…
https://www.immortalfrostproductions.com/releases/dispyt/dispyt-under-tiden-jag-salde-min-sjal-till-satan-cd/
https://www.shop.immortalfrostproductions.com/?s=dispyt&post_type=product
https://smarturl.it/MinSjalTillSatan
https://www.immortalfrostproductions.com/bands/dispyt/
https://dispyt.bandcamp.com/album/under-tiden-jag-s-lde-min-sj-l-till-satan
https://www.concreteweb.be/reviews/dispyt