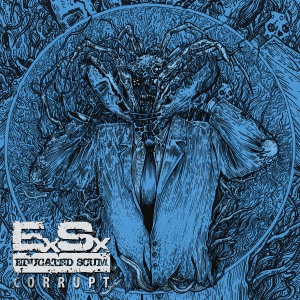 Sometimes I prefer to keep it simple and short, for the sonic terror must do the talking. This surely goes for this release, called Corrupt, which is the second full length studio album by Moscow-based act Educated Scum. The band is active for about two decades, but they did not create that much stuff. Their former studio recording dates from 2011 (called React, by the way), and afterwards there was just a compilation (link for the review on that album, see below) and a live registration. But that does not matter, for these crazy-heads have now returned with Corrupt.
This new album was recorded by original member and the band's main guitar player Mikhail Kuznetsov aka MishGun, who wrote all music and took care of engineering (with exception of the drum parts), mix and mastering. Once again he was joined by lyricist Dmitry 'Dimebag' Dasov (who did some backing vocals) and a few other session and studio musicians, amongst which members of e.g. Forces United, Back Door Asylum or Alkonost. The physical version (compact disc) comes with an eight-page booklet in an edition of 500 copies, and it got released once more in a partnership in between More Hate Productions and GrimmDistribution.
I wanted to keep and simple, so what about this: Educated Scum perform Grinding Death Metal, timeless Grindcore, or rather Punk-laden Deathcoregrindmetalfilth?... Indeed, you're welcome…
No, seriously, this band injects the most groovy elements from Old School Death Metal with a punky approach of deadly Grindcore. And you know, they do it with passion and persuasion. The better part is based on melodious riffage (with a couple of truly crafted solos and leads) and deep-growling grunts, supported by a heavy and low-tuned rhythms section. Besides, the addition of technically well-crafted experiments (mainly guitar-wise) and additional (vocal) samples is quite cool. Despite the grinding influence, the tempo is not that whirlwindy at all. Yes, there are several lightning-fast passages, evidently, but in general the stuff is energetic yet mid-tempo to semi-fast oriented. And what's more, the hooks and breaks are so ingeniously subtle, represented in a mostly organic transition.
Characteristic is the groovy approach, on top of the technically high-skilled performance. Despite the low-tuned riffs, that groovy attitude sounds like a bridge in between the old styled trend and a more modernised vision. Let's call it timeless when talking about the song writing concept. Consider it a crossover in between the primal roots of old, and the progressive possibilities of our current era.
Add some elements from Thrash Metal, Hardcore and Doomcore on top of it, and even moments of tranquillity (what about the intriguing acoustic intermezzo and masterly executed solo in The Birth Of Conflict / The Death Of Piece), and you'll notice that this Russian act will be 'attractive' to quite a huge open-minded public. Fun, yet still earnest it is…
https://grimmdistribution.bandcamp.com/album/042gd-educated-scum-corrupt-2019
http://www.satanath.com/distro/item/042gd.html
https://escum8.wixsite.com/educatedscum
https://www.concreteweb.be/reviews/educated-scum