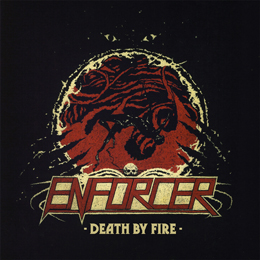 Release Date:
Thursday, February 28, 2013
Like I already had expected, the official first album on Nuclear Blast Records is showcasing an improvement over the previous albums. Musically they haven't changed anything, but the songs sound more accessible, more mature and the production also has more crunch to it!  Stylistically they still reside in the NWOBHM and US speed metal of the eighties.
"Death rides this night" sets the tone. There's a reason that Enforcer have become one of the most popular underground metal bands of the past several years. Death by Fire showcases one of many leads that's bound to inspire a whole new generation of melodious axe players like Iron Maiden, Metallica, Satan and Jaguar did back in the '80s. Guitarists Olof Wikstrand and Joseph Toll practically set their fretboards ablaze with pure thrash fireworks. The duo seamlessly switches time signatures, showing their true talent. Underneath this deluge of six-string mastery, drummer Jonas Wikstrand powers through violent hammering. Outstanding songs like the great single "Mesmerized by fire" and "Silent hour/the conjugation" for example, are purest steel you couldn't forge better. Just like on their debut (I have not heard the second) they have an instrumental on the album "Crystal suite" but contrary to many bands that use those only to fill the album, Enforcer's is brilliant, straight, variable and powerful! None of the nine songs could be pointed out as a let-down, only killers here!