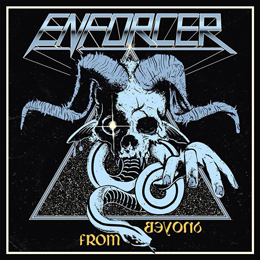 Release Date:
Saturday, January 31, 2015
Line up :
Olof Wikstrand – Vocals / Guitars
Jonas Wikstrand - Drums
Joseph Tholl - Guitars
Tobias Lindkvist - Bass
Hailing from Arvika, Sweden, Enforcer play a brand of New Wave Of British Heavy Metal with an injection of punk. Founded in 2004, Enforcer describe themselves as being devotees of "real metal". They've since gathered four albums under their belt, with their new album 'From Beyond' continuing down the path created by 2013's 'Death By Fire'.
Easily one of the most enjoyable aspects of From Beyond is the pure intensity of speed. Opener Destroyer roars into life through a wicked riff before which showcases the band's no nonsense approach to creating fast paced traditional heavy metal. This remains throughout the entirety of the record; riffs, vocals and solos all are played at breakneck speed which just encourages a serious case of whiplash. By sticking to the roots of heavy metal it enables Enforcer to show-boat their musical talent, the solo in Undying Evil is technical, intricate and fantastic and the guitar play from Olof Wikstrand and Joseph Tholl on One With Fire hooks the listener in an instant. It's incredibly satisfying that a band have created a record that is so intoxicating.
Another incredibly enjoyable aspect of From Beyond is that the record does not grow tiresome at all. Unlike many bands whose sounds is rooted in old school metal, Enforcer have crafted a record where each song is a fresh listening experience. The pace of the record is phenomenal, the speed through the riff work and Jonas Wikstrand's consistent drumming ebbs and flows across the entirety. For example, The Banshee highlights the variation of pace perfectly where as instrumental track Hungry They Will Come showcases guitar play that is both refreshing and yet trademark to the typical speed metal characteristics. It's rare for a record of this type to contain such variety but Enforcer have been able to achieve this through brilliant composure and execution.
From Beyond is an absolute gem of a record, it showcases a band that have firmly stick to the roots of what makes heavy metal so enjoyable. From start to finish, you will instantly be hooked on fantastic guitar play, catchy vocal work and heavy metal at it's very best. The 1980's may be well and truly in the past but Enforcer have ensured that the roots of heavy metal's musical characteristics live on in the modern age.
Tracklist:
1.   Destroyer
2.   Undying Evil
3.   From Beyond
4.   One With Fire
5.   Below The Slumber
6.   Hungry They Will Come
7.   The Banshee
8.   Farewell
9.   Hell Will Follow
10. Mask Of Red Death