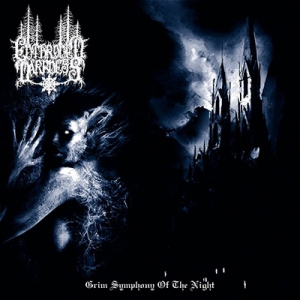 Album Title:
Grim Symphony Of The Night
Enthroned Darkness are quite an active outfit by Simone 'Nex Umbra Domini' Ghizzinardi, whom you might know from for example Absum, Suspiria Profundis, Aevum, Nebbia and many more. Under the Enthroned Darkness-moniker, Simone returns with a third full length studio album, which he did record during Winter 2014-2015 at his Dark Sound Studios. The guy did about everything himself once again: music + lyrics, recording, additional effects, and even artwork and layout. The result, called Grim Symphony Of The Night, is a seven-piece album, which has a total running time of fifty seven (!) minutes. It gets released in a co-operation in between Silent Time Noise Rec. and Outer Line Prod., which both do work together for several occasions (cf. the upcoming review which I will write for Heimskringla in a couple of days / weeks / decades).
After a fine yet rather short introduction, the project (being vocalist / multi-instrumentalist Nex Umbra Domini and five-string bass player Spiritus Noctis) shows its raison d'être by performing a mostly oppressive, dominating and suffocative form of (machinal) Ambient-Black-Doom Metal / Electro-Ambient-Atmospherics, somewhat à la Urna, Hoth, Valar and the likes. It's quite diverse, this kind of Aural Darkness, and mostly uncomfortable in result. But they deserve what they are aiming for – nothing more, nothing less.
The major part is based on mystic, magic and occult collages of Dark Ambient, Funeral Doom and Atmo-Black Metal, with a cohesive result when talking about the general approach. Classic excerpts interact with faster outbursts, gothic-oriented ambience-parts, blackened eruptions, symphonic majesty and down-earthed integrity. Despite the mechanical approach / sound, the whole gets driven by a force of epic supremacy, focusing on mighty atmospheres rather than on the false elements of would-be blackness (which is quite an illness within this specific current), and this gets defined through two aspects: the execution and the song writing at first. The latter has to do with quite impressing, intriguing compositions, despite the lengthy duration (no boredom is possible, unless you're a zombie); the first aspect refers to a performance that is not only an expression of the song writing; the persuasion defines an eerie view on our beloved Ambient-Black Beauty in a way undersigned truly adores: lacking of cheap easiness, yet focusing on utterly obscure, grim, majestic and extrinsic un-ugliness.
I have to admit that it took three listens (this is my fifth in mean time!) before I sort of understood the whole concept. That's not a bad thing (imagine: I have quite a busy job as HR (human resources) pretty-face (I am about the least ugly one, hehe), a full time job as father within a family with two young kids and a busy self-made independent CEO-wife, and at last -no kidding- hundreds of releases to listen to, and to review, each month over and over again - but you won't hear me complaining!!!), for I truly wanted to spend my time again, and again, in order to fully comprehend this complex album. And that's a strength. I've heard many other albums with lengthy compositions that bore the shit out of m, but like in this case I think it's not a waste of time to go deeper into the subject. No patter if it deals with the piano-laden parts, or the heavier metalized excerpts; in each case the atmosphere breathes sulphuric stench and acid filth, whether you like it or not, yet in a way both Doom and Black adepts might adore, and the same goes for adepts of Dark Ambient and Symphonic Majesty.