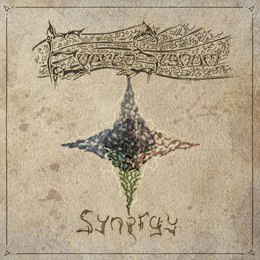 Everto Signum are a very young Portuguese three-piece; young because they were formed in 2012, and young, because the members are in between 22 and 25 years of age. In 2012, they independently released a first album (back then Everto Signum were a quartet, with another line-up), which was called Enneachotomy, and now the band returns with a four-track EP, which includes a Lux Ferre-cover. The material was recorded by original members Æminus (strings) and Nekruss (vocals; you might know him from his solo-outfit Nekromorphine too; currently he lives in Austria), and new drummer Cavaleiro in August and September 2013. The result was mixed and mastered at the famous Austrian Sound Temple Studio with Stefan Traunmüller (Alastor, Wallachia etc.).
Since this band is highly inspired by Mother Nature, they decided to label their Music as 'Elemental Black Metal', referring to the elements of Nature (but you got that, of course…).
Synergy opens with Cold Inception, which is a great introduction for sure. And I do not know if it is a coincidence or not, but the influence from Austria is so overwhelmingly present. Summoning, Dargaard, Grabesmond etc., this piece just breathes the bombastic and gothic majesty courtesy of the bands I just mentioned. This introduction smoothly transmorphs into Stirred Ambiance, bringing extremely grotesque, overpowering, massive, melodic, obscure, atmospheric, rhythmic and majestic Black Metal of a superb, excuse me, of a superior quality. It starts creepily slow, but generates into fast-paced proportions, without denying the massive orchestrations and highly melodious technics. Elemental Synergy is comparable, but this song is much more energetic, oppressive, and straight-forward. And it is truly remarkable how such a young crew is able to write and perform such adult stuff! Remarkable too is the timeless approach. It isn't modern nor old styled, and at the same time it is both of them. Besides, Stirred Ambiance sounds pretty groovy and catchy, yet it withholds its initial hot pepper in the arse-attitude. Pretty much the very same goes for Atrae Materiae Monumentum, though this final piece on Synergy is less fast than its predecessor – which does not mean less intense or powerful. And what's interesting is that this really sounds as if it were a track created by Everto Signum themselves, despite being a Lux Ferre-cover. It does not mock the initial strength of the original track, but this one of those few moments that I can enjoy a cover track with deep respect.
If this is the evolution this band will undergo, then I do look impatiently forward to hear their upcoming second full length (or another EP, for my part…; that will do too…)!