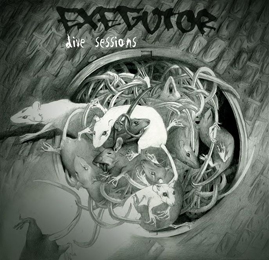 Release Date:
Saturday, October 27, 2012
The scene from Belarus is not that 'huge' as the ones from neighbours Russia, Poland, Lithuania, Latvia or Ukraine. The Possession-label is a good example for nice material coming from that (contested) country (I would like to refer to the review on Šmiercieslaŭ's album Cjomny Pryliŭ Razburennja / Ciemrazoŭ, posted on September 2nd). Other examples might be the reviews I did last year and in 2012 for acts like Zaklon (probably my favourite combo from this East-European state) (see update February 24th 2013) or Piarevaracien (29/08/2012).
Unlike these country-fellowmen, Exegutor, however, have nothing to do with Black or Folk / Pagan Metal. In 2011 they did release a first full length (Cure For Dull), and this mini was originally released in 2012, but still 'hot'.
These guys bring a form of Traditional Grindcore, filled with blast beats, groovy riffs, a couple of Death Metal-laden technical structures, fucked-up Punk aggression, and no-nonsense Crust. What strikes me is the perfectly elaborated use of melodies, nicely contra-balancing to the aggressive eruptions of Hardcore-laden eruptions. Besides, despite the aural roots in the Old School scene, these eight tracks (which have a total running time on thirteen minutes) sound rather refreshing. This has to do as well, of course, with the great sound: massive, colossal, gargantuan! Each single piece is a nice example of how right-in-your-face Grindcore must sound. And it might be a narrow-minded vision, but I would have never thought such quality did exist in a country like Belarus. A very nice surprise!
Highly recommended for fans of, well, let's say everything in between Napalm Death, Fitcage, Extreme Noise Terror, Nasum and Anaal Nathrakh.